[26 OCT 00] CW2000 NEWS
BADCAD Gets Hooked On ADSL

A Coventry company which has set up an on-line "hospital" for Computer Aided Design models is moving ahead of the game thanks to the CW2000 project.

BADCAD.com was set up in August by Professional Engineering after the firm received emergency money to help it through the Rover crisis.

Previously dependent on Rover for 40 per cent of its income, the sale of the motor giant by BMW forced it to look at new sources of income.

The result was a world-first on-line services solving problems with CAD models.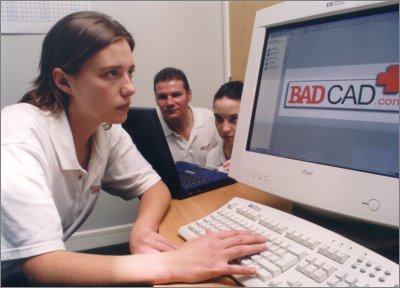 (LEFT TO RIGHT ) DAWN HEWINS, GILES GASKELL AND JENNIFER GOODWIN FROM BADCAD.COM
Sales director Giles Gaskell said:
"Clients e-mail us CAD models which aren't running properly, so that we can diagnose the problem, put it right and send it back within just two working days."
The service has benefited from being hooked up to CW2000, which is designed to encourage firms in the area to use the latest ICT to improve competitiveness.
The package includes computer hardware and software and includes a high-speed ADSL internet link.
Mr Gaskell said:
"Since the installation of the ADSL link, our clients receive a more efficient service, and although we have had no problems with it, it is comforting to know that the CW2000 team is available to help if we do come across any difficulties."
The company, based at the TechnoCentre in Puma Way, recently won a technology award, sponsored by Advantage West Midlands, Coventry University and British Telecom, which rewards firms for embracing IT in innovative ways.
It has also won six new clients, and has had a great number of queries, particularly from the United States.