THE EDITOR'S DIARIES - WEDNESDAY 31 MAY 2000
Dark Glasses On / Dark Glasses Off

Today was my 40th birthday so I had two parties with two pairs of glasses just to make sure.

I started at 5.30pm prompt (or as prompt as I can ever be) with a cake, a musical candle, a wife, a sister-in-law and two lovely daughters.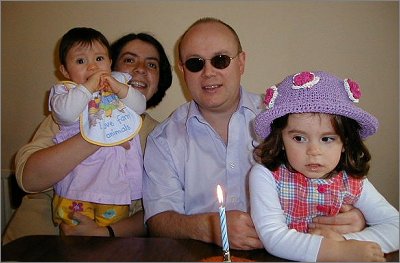 LEFT TO RIGHT: ELLIE, BENITA, DARK GLASSES ON, MIVI
Mivi loves the musical candle and is just learning to blow it out. Ellie now gets very excited by the camera flash and jumps up and down with glee every time it goes off.
The cake was a Carrot Cake from Marks and Spencer. The photograph was taken by Cecy, my sister-in-law from Chile who is staying with us at the moment.
Mivi was wearing a new hat in her favourite colour purple.
Then off to Coventry's new tapas bar, Tabasco's, for party number two.
This restaurant was opened a couple of months ago in the old coal vaults at the Canal Basin.
It's an interesting place to eat - a definite Spanish first on the local eating out scene.

LEFT TO RIGHT: RIC, HILARY, ALISTAIR (JUST), BENITA, DARK GLASSES OFF
Most of the CWN staff and partners came along - it coincided with a date for a staff night out. So two small birds were slightly wounded with one tapas.
It is a different way to dine - that takes a little getting used to. If you go there with a mind for having a meal out you might be disappointed.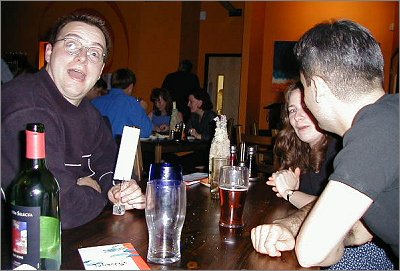 LEFT TO RIGHT: RIC, HILARY, ALISTAIR
But if you go there to have a drink, a laugh and some tasty tuck along the way you'll be pleasantly surprised.
The food is very different to anything you'll get anywhere else in Coventry. The menu descriptions are extremely enticing and when it comes it is delicious.
But do be prepared to wait. The staff don't seem to have quite 'bedded down' and serving a table of ten with a mixture of 'buffet specials' and a la carte seem to cause mucha confusión.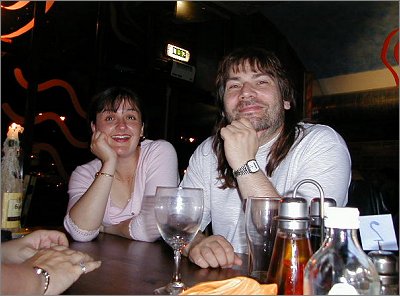 SADIE AND PAUL - WITH THE HANDS OF SUE
Unfortunately the service got rather out of synch with the three of us who made individual choices from the menu getting served much quicker than the seven who had chosen the buffet specials.
Hence the 'hungry three' had finished while the buffet slayers still had their tongues hanging out in anticipation.
I'd had a hungry day (with only four pieces of birthday cake) so I counted myself lucky that I had gone for the menu choices. My veal kidneys in a sherry sauce, monkfish and bacon kebabs and pork in a piquant orange sauce were all excellent.
Benita's vegetarian selections also went down a treat.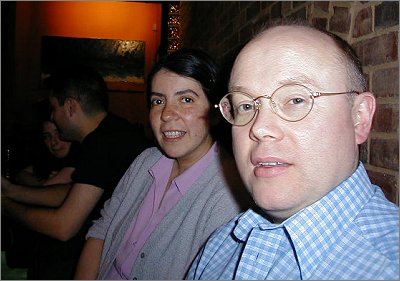 BENITA AND CHRIS AGAIN AFTER THE MEAL HAD GONE
On marks out of ten, I'd give Tabasco's:
FOOD
10
SERVICE
5
AMBIENCE
7
VALUE FOR MONEY
7
OVERALL
7.5
AVERAGE PRICE PER PERSON
[excluding drinks]
£10
Definitely a good place to go for an evening out in Coventry if you want somewhere different. If they can get the service sorted it will be a great place.
But be warned - if you like something sweet to round off your evening they don't do desserts.
IF YOU WOULD LIKE TO MAKE COMMENT OR RAISE A QUESTION EMAIL ME AT chris@cwn.org.uk