[22 APR 99] COVENTRY UNIVERSITY PRESS RELEASE
Coventry University Buys Historic Odeon

Coventry University is now the new owner of Coventry's historic Odeon Cinema, after successfully concluding negotiations with former owners Rank.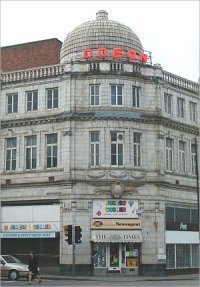 The distinctive dome and facade of the 67-year-old building in Jordan Well, which adjoins the University's main campus, will be retained and the retail premises based within the building will also stay.
The University will transform the building into a state-of-the-art facility for its performing arts students studying music, drama and dance, and who are currently based on a site a Bishop Ullathorne School, Leasowes Avenue.
"We have long wanted to bring our performing arts students onto the main campus to centralise our arts provision, where they will join our Communication, Culture and Media students who will also be based in the new facility. The purchase of the Odeon is the ideal solution for us,"
said Pro-Vice-Chancellor Professor Norman Bellamy, who has led the project's development for the University.
"We will create a vibrant focal point for the performing arts, incorporating the latest lighting and sound equipment and a purpose-built stage which will be used to stage public performances of the students' work. However, this development will not just be an asset to the University but will also be a cultural resource for the City, enhancing and revitalising this part of the City Centre, and providing a new lease of life for one of Coventry's landmark buildings", added Professor Bellamy.
News of a major grant from the Higher Education Funding Council that will assist the University with the transformation and refurbishment work is expected within the next few weeks.
The Odeon will close as a cinema in October, with Rank transferring its cinema business to the new LeisureWorld development in Spon Street, Coventry. It is hoped that work on the transformation of the building will begin soon after.
MORE INFORMATION:
Cyrrhian Macrae or Floyd Jebson 01203 838352