[04 OCT 99] COVENTRY UNIVERSITY PRESS RELEASE
£3.2 Million Grant For University's Odeon Redevelopment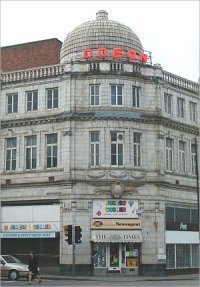 Coventry University has been awarded a grant of over £3.2 million for its development of the Odeon Cinema as a state-of-the-art centre for its performing arts and media courses.

The money comes from the Higher Education Funding Council for England and is being awarded under their £250 million Improving Poor Estates Initiative.

The distinctive dome and facade of the 67-year-old building, which closes as a cinema in October, will be retained and the retail premises within the building will also stay.

The University will transform the building into a first-class facility for its performing arts students studying music, drama and dance, who are currently based on a site at Bishop Ullathorne School, Leasowes Avenue. They will be joined by the University's Communication, Culture and Media students.

The University has been keen to bring its performing arts students on the main campus for some time and the Odeon is the ideal solution.

The development will create a vibrant focal point for the performing arts, incorporating the latest lighting and sound equipment and a purpose-built stage which will be used to stage public performances by the students.

Commenting on the award the University's Director of Estates, Bill
Woolhead said:
"We were very pleased to receive the award in the face of stiff competition. The revitalisation of the Odeon building is a good scheme, occupying an ideal location in the centre of our campus and retaining a prominent Coventry building for the future."
MORE INFORMATION:
Cyrrhian Macrae or Floyd Jebson 01203 838352