[14 JUN 00] COVENTRY UNIVERSITY NEWS
Students Tog Up For Disaster Protection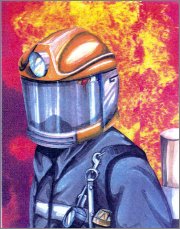 Protective clothing for the future will be unveiled by Coventry University at their design show later this week.
A revolutionary type of breathing apparatus for firefighters and a protective suit for earthquake search and rescue personnel are just two of the innovative designs being showcased.
They have been dreamt up by Consumer Product Design and Industrial Product Design students at Coventry University and will be on display at the design show, which is being opened on Friday at Coventry City's Highfield Road ground.
Cherolyn Martindale's breathing apparatus incorporates a thermocouple-triggered head-up display which alerts the wearer when the outside temperature becomes dangerous.
Unlike the separate helmet and breathing apparatus equipment currently in use, this new design combines both helmet and apparatus, reducing the time taken to don the equipment, which could save vital seconds in a crisis situation.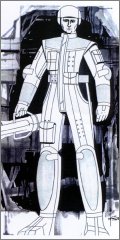 The earthquake protection suit designed by Navin Sood was inspired by the Turkish earthquakes which caused such devastation last year.
The suit has padded elbow, knee and shin pads that can be inflated manually or by using CO2 gas cylinders.
It is made of a tough waterproof combination of kevlar and cordura and includes detachable press-stud pockets which can be attached at a variety of points on the suit, or used as small carrying cases.
Navin said:
"When I saw the Turkish rescue workers scrambling through the rubble in little more than overalls, I thought that there was a need for a suit that could provide far greater protection - and with practical storage pockets that could be moved as necessary."
The show is open to the public free of charge from 17-21 June.