[01 DEC 00] COVENTRY UNIVERSITY NEWS
University Library Wins Top Award
BY ANTONY HOPKER

Coventry University's new library has chalked up what is expected to be the first in a long list of many awards and has been hailed as a "landmark" building.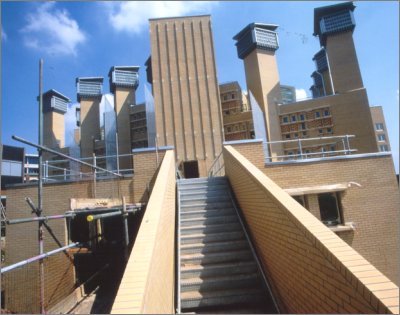 COVENTRY UNIVERSITY'S AWARD-WINNING "VERNACULAR"
The latest addition to Coventry's skyline, the library was chosen as the Best Public Building and the Brick Development Association Building of the Year in the prestigious Brick Awards 2000.
The award citations says:
"This dynamic piece of architecture creates a new brick vernacular that reflects the objective of sustainability.

"As well as being an impressive contribution to the skyline of Coventry, this imaginative six-storey university scheme is designed to be environment-conscious.

"Central to its concept is the natural ventilation system. Fresh air enters into a plenum on the ground floor, and ten brick towers around the perimeter extract stale air fusing a stacking effect.

"The design reduces energy requirements and sets a new standard in valuable, high-quality university accommodation.'"
The new library is proving a winner with staff and students alike - and is attracting a great deal of interest from the public, architects, construction companies, and other Higher Education institutions.
Director of Estates, Bill Woolhead, is confident that these awards will be the first of many. He said:
"'The new library is technically innovative, setting new standards in energy conservation. As a result it was challenging in construction.

"The final result is a striking building viewed from any angle. Early indications are that comfort levels within the building and low energy costs are in line with our expectations.

"We are very pleased that the building has won two awards in such a prestigious competition.

We have a building that both Coventry University and the city can be proud of."