[14 FEB 01] COVENTRY UNIVERSITY NEWS
World's Eye Looks On City With New Webcam

The world is now able to peer into all parts of Coventry, including stunning views of the cathedrals, following the installation of a movable webcam by Coventry University.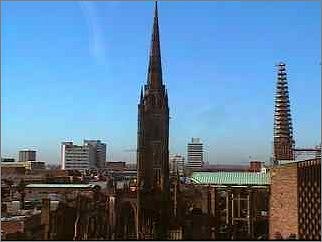 A VIEW FROM COVENTRY UNIVERSITY'S WEBCAM
Visitors to the university's website can now operate the webcam to zoom into views on the campus and other attractions in and around Coventry.
The idea for the webcam was conceived by the university's Web Development Team, which includes an editor, designer and programmer.
It is hoped that it will prove an extra feature in persuading would-be students to come to Coventry.
The camera has been put on the George Eliot building to give a glimpse of university and city life, aiming for areas that potential students would like to see.
The camera has a two-mile view and a near 180 degrees sweep. It can pick up both cathedrals and other city landmarks.
Browsers can also select particular University landmarks and the camera will automatically adjust position to view the site.
The webcam was launched in a restricted format for the graduation ceremonies in November 2000, in a fixed position overlooking St Michael's Cathedral.
It received more than 13,000 hits during this time, and viewers commented on how exciting it was to be able to watch the ceremonies live on the web. The webcam is now fully movable and receives approximately 6,000 hits a month.
Coventry University's Site Editor, Stephen Sangar, said he receives feedback on the University webcam from all over the world, usually from ex-pats and former students and staff.
He said:
"It is great when I receive feedback from people who are delighted with the new webcam. I have had messages from people in Australia who can't believe the weather, particularly the snow over Christmas."
The university is planning to have a "gallery" of webcam pictures which people can submit from their own homes. A series of static webcams may also be located around the University Campus to cover the areas which cannot be seen from the George Eliot Building.
Stephen explained:
"It is a wonderful tool for both prospective and former students. Using this technology people are able to see Coventry University anytime they want."
The webcam can be viewed by visiting www.coventry.ac.uk/webcam
CWN also has a webcam, overlooking the Lady Godiva statue in Broadgate. Running since 1996, it has built up to 67,000 views a month.
It was particularly popular during the New Year's Eve celebrations in 1999 when thousands logged on to see the tightrope walk between the old cathedral and Holy Trinity spire, and can be seen at
www.cwn.org.uk/webcams/index.html