[15 OCT 98] COVENTRY UNIVERSITY PRESS RELEASE
Students Exhibit at Motorshow '98

Coventry University will be one of the main exhibitors in what is believed to be largest collection of concept cars and models ever assembled - at this year's British International Motorshow at Birmingham's NEC.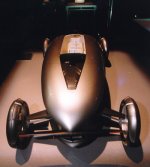 The AA-sponsored 'Concept Cars of the 21st Century' exhibition will feature concept cars designs and scale models produced by postgraduate students from Coventry University's MA Automotive Design course.
Scale models being exhibited by Coventry students include:
Lee Mitchell's Formula 1 Supercar blends the latest in F 1 technology with the Irish spirit and zest associated with the famous Jordan team.
David Caffrey's lightweight Ducati Sportscar, reflects the companies image and heritage while providing pointers to the future
Anthony Williams' Alvis Grand Tourer looks at reviving the Alvis marque for the modern market
The idea of a Citroen sports car inspired John Vincent. The end result is a plastic, recyclable and stylish two-seater
A Tropical Forest Vehicle for the jungles of his home country of Thailand has been designed by Komgrit Trakoontiwakorn. The vehicle is influenced by Thai art and culture and is designed to allow rangers to move effectively through thick jungle.
Dong Seok Park has designed a Daewoo multi-passenger vehicle (MPV). An all-round family car for town and country.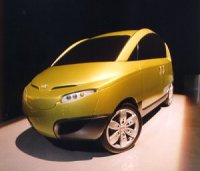 These are just some of the striking and innovative designs that will be on display from Coventry University students during the course of the International Motorshow which is open to the public from 23 October - 1 November. Also on display will be Concept 2096, affectionately known as 'The Slug'. This full-size car of the future was designed by Coventry University students, having been commissioned by the Society of Motor Manufacturers and Traders (SMMT), to commemorate the 100th anniversary of the motor car in 1996.
MORE INFORMATION:
Cyrrhian Macrae or Floyd Jebson 01203 838352