[22 MAY 00] HENRY HINDE JUNIOR SCHOOL NEWS
Henry Hinde Goes On-line As MP Launches Site
BY ANTONY HOPKER

Henry Hinde Junior school in Rugby has impressed its local MP by going on-line – with a little help from CWN.

The site giving details of the school in Cornwallis Road and its pupils was formally launched by Rugby and Kenilworth MP Andy King today.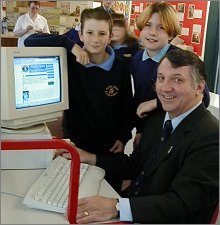 Deputy head-teacher Ed May took on the task of writing the site – his first stab at the internet, to keep the school up with the times.
He said the internet was proving very popular with the youngsters, who used it for projects in Geography, Maths and History lessons.
And Mr May thanked CWN for help in giving the website a permanent home.
CWN is giving free space on its community server and a free UK domain name to non profit-making groups in Coventry and Warwickshire.
It allows organisations without huge resources to guarantee their site will remain safely on the internet.
All the groups have to do in return is carry a link to CWN on their site.
Mr May said a trial site on a wider server had led to problems with unwanted adverts cropping up.
He said:
"We had a very long and complicated internet address.

"As schools develop their own internet sites they are going to need a name they can remember that clearly identifies them.

"It's also nice to be part of the community feel of CWN."
Andy King told children selected to take part in the site launch that they had an advantage over his generation when it came to finding information.
He said:
"When I was a child if you wanted to find out about something and the library was closed you had to find someone who had an Encyclopaedia Britannica."
But he warned the children they would still have to develop their skills to pick out the good information from bad.
He said:
"You have to use your wisdom to know when something is not as useful as you want it to be."