[08 NOV 00] UNIVERSITY OF WARWICK NEWS
Warwick Appoints New Vice-Chancellor

The University of Warwick has appointed Professor V David VandeLinde as its next Vice-Chancellor to replace Sir Brian Follett, who steps down in April.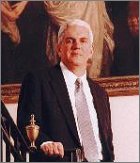 The decision to appoint Professor VandeLinde as Vice-Chancellor of Warwick was unanimously approved by the University's Council and Senate yesterday.
Prof VandeLinde will join Warwick from the University of Bath where he has been Vice-Chancellor since 1992. He is due to take up his position in August 2001.
He was born and educated in the United States, training in electrical engineering at Carnegie-Mellon and developing his academic career at Johns Hopkins University.
In 1978 he became the founding Dean of the Whiting School of Engineering at Johns Hopkins, which, under his leadership, became recognised as one of the top engineering schools in the US.
During the eight years that Professor VandeLinde has been Vice-Chancellor of the University of Bath its reputation has grown rapidly.
The university is in the top ten in the three main university league tables and is ranked sixth out of 100 British universities in the most recent Research Assessment Exercise.
Prof VandeLinde said:
"I am very excited about being named the Vice-Chancellor of the University of Warwick.

"Warwick is now well established within the UK's 'Ivy League' and I look forward to the opportunity and challenge both professionally and personally to lead Warwick in becoming recognised as a world-class research university."

"At the same time, it was a difficult decision for me to leave The University of Bath where I served as Vice-Chancellor for over eight years.

"I feel, however, that I accomplished what I set out to do at Bath and will leave the university in a position of strength, well entrenched in the top ten rankings of the major UK league tables."
Rhys Williams, Chairman of the Council welcomed Professor VandeLinde's appointment saying:
"Higher education in the UK stands at a crossroads. Universities face many challenges over the next five years: we need to find new sources of income, build Warwick's reputation as a truly international institution and take advantage of the tremendous opportunities for teaching and research from the IT revolution.

"The University of Warwick is extremely fortunate to have appointed David VandeLinde to guide us through these challenges, a man with more than 20 years senior management experience in British and American universities."
Prof Stuart Palmer, current Pro-Vice-Chancellor and Chair of the Physics Department at Warwick, will be acting Vice-Chancellor in the interim period.