[24 NOV 00] UNIVERSITY OF WARWICK NEWS
RaW Talent Wins National Accolade

Students from the University of Warwick will be broadcasting to the nation after the radio station scooped a hat-trick of awards.

RaW – University Radio Warwick – was voted best student radio station in the country at the national Student Radio Awards ceremony in London featuring many big names in the industry.

Along with a glass trophy, the prize is to broadcast on Radio One for an hour next year.

Individual presenters also scooped awards as the station collected its first honours since 1992.

Catherine Nicholson was selected as the best female presenter, while the RaW Dance Selector won the best show award.

The winners are to get placements at Radio One.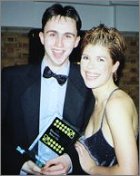 Station manager Dan Page, pictured with Radio One presenter Emma B, said everyone was on a "massive high" following the awards.
He said:
"It's all down to hard work. We've never had so many entries before and six entries got nominated. It is fantastic to win three prizes.

"This has inspired a lot of people here to go on with it and try and get a job in radio after they leave Warwick."
RaW, formerly known as W963, broadcasts on 1251AM. Previous presenters to use it as a springboard for their career include Radio One's Simon Mayo, and children's TV presenter Timmy Mallett.