A University of Warwick student is set to big it up as a DJ after making it through to the semi-finals of a national DJ competition.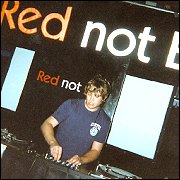 Maxwell Golden was selected in heats at the University of Warwick Students' Union in October last year. He competed along with 127 other DJ hopefuls across 16 venues to pick up the title of 'Regional Student DJ Champion'.
He now goes on to the semi-finals at Salford on 7 February.
The 'Red decksandefx' competition as it is known, is backed by clubbers drink maker Red, DJ magazine, NUS Ents, Ministry of Sound and the music industry and is the only NUS recognised national student DJ competition.
Maxwell was chosen by the judges in his heat for showing originality, innovation, technical skill and an ability to please the crowd with his live DJ set. Since winning Maxwell has played a warm-up set on the Ministry of Sound University Tour and now has the opportunity to prove his credibility as an up and coming DJ on a national level as he competes for the title of Red decksandefx National Student DJ Champion 2002.
The 16 semi-finalists, including Maxwell, will compete at Salford University Studentsí Union on 7 February and Hertfordshire University Studentsí Union on 8 February 2002. From the semi finals eight finalists will go through to the final on 27 February 2002 at the Ministry of Sound. The semi-finalists range in style from Breakbeat, UK Garage, Hard House, Jungle, Hip Hop, R&B and Drum and Bass.
The final will be judged by top name DJs and the winner will be featured on the Ministry of Soundís radio station and have a professionally produced showreel and mixing tips by an A-list DJ within their genre.