[13 MAR 99] COVENTRY & DISTRICT NATURAL HISTORY SOCIETY NEWS
Natural History Fair at Kenilworth

This highly successful natural history fair organised by Warwickshire RINGS (Recorders In Nature GroupS) was held at Kenilworth School on Saturday 13 March.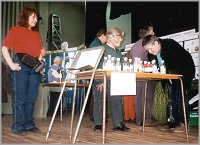 The Coventry Natural History Society's exhibit included live stick insects and a display of dissected owl pellets.
Visitors were able to test their botanical knowledge in a 'Animal-Plant' quiz (probably the most popular item on the stand!), and have a go at examining tiny insects through a microscope.
Congratulations to Miss J Day (Coventry) and Miss M Kelsey (Hampton Magna) - joint winners of the Animal-Plant quiz, and Miss L Pratt (Southam) who was the outright winner of the Kitchen Chemistry quiz. They each won a year's free family membership of the Natural History Society.