[28 FEB 01] COVENTRY CYCLING CAMPAIGN NEWS
Cyclists Add Voices To Phoenix Opposition

Cyclists in Coventry are up in arms over plans to ban traffic from the city's Millennium Place, which is to be built as part of the Phoenix Initiative.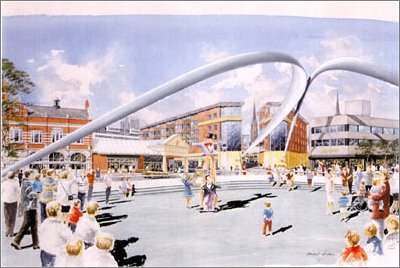 CYCLING WILL NOT BE ALLOWED ON MILLENNIUM PLACE
They say the order will make it an offence for cyclists to cross the square on their way in and out of the city centre.
Millennium Place is to be built across the junction of Hale Street and trinity Street as part of the £40 million development in the city.
The crossroads will be closed to traffic to make way for a bridge and a map embedded in the ground showing the world's time zones.
Other protestors say the closure of the junction will make it virtually impossible to drive around the city centre.
Coventry Cycling Campaign say that bicycles should be allowed to ride in the square as it is the main link to the north of the city.
If Millennium Place becomes a barrier to this, the campaigners say it will put people off using their bikes.
Spokesman George Riches said:
"The proposals act against the Council's stated cycling policies and ignore cyclist's needs; they send out exactly the wrong message about cycling's status in Coventry.

"If this is carried through there will be no through cycling route across the city's north. Cyclists will be expected to dismount and walk across the new square, thus breaking their journey's continuity."
Mr Riches said members of the campaign had drawn up alternative suggestions, including exempting bicycles from the order, and creating a two-way cycle lane.
He added that Cyclic were linking up with other groups that had were fighting various aspects of the Phoenix Initiative, such as the traffic order and the planned demolition of the Hippodrome, but would be focusing on cycling issues.