[02 APR 01] WARWICKSHIRE WILDLIFE TRUST NEWS
More Nature Reserves Back Online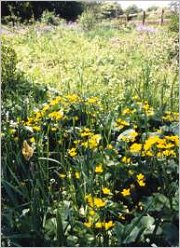 Warwickshire Wildlife Trust has re-opened several more of its nature reserves after re-assessing the risk from foot and mouth disease.
The reopened reserves include Claybrookes Marsh and Stonebridge Meadows in Coventry, Ryton Wood at Ryton-on-Dunsmore, Cock Robin Wood in Rugby and parts of the Leam Valley on the edge of Leamington.
Access to Ryton Wood will only be through Ryton Pools Country Park, which has been opened by Warwickshire County Council.
Brandon Marsh, Kenilworth Common and Knowle Hill in Kenilworth, Newbold Quarry in Rugby and Stoke Floods in Coventry are among those nature reserves that have already been reopened.
Andrew Thompson, Conservation Manager, said:
"The Trust is keen to provide members and the public with the opportunity to visit nature reserves this spring. We have however had to take care to ensure that we do not do anything which could increase the dangers of foot and mouth disease spreading further.

"We will continue to assess the situation and hope to be able to announce the re-opening of further nature reserves in the coming weeks.

"Full details of the reserves that are open are available from our office at Brandon Marsh Nature Centre or from the Trust's website www.warwickshire-wildlife-trust.org.uk".
SEE ALSO: [27 MAR 01] NATURE CENTRE OPEN DESPITE DISEASE CRISIS
SEE ALSO: [27 MAR 01] TOURISM DEVASTATED BY FOOT AND MOUTH
SEE ALSO: [21 MAR 01] BLUEBELL WALK OFF DUE TO FOOT AND MOUTH