[04 MAR 99] WARWICKSHIRE WILDLIFE TRUST PRESS RELEASE
Two New Faces To Help The Trust

Warwickshire Wildlife Trust today welcomed two new Managers to help take the Trust forward to the Millennium. Phil Dickin is the Trust's new Community and Education Manager, looking after the Trust's work with local projects, schools and training. Pam Bankes Gregory is the new Development Manager, to help raise membership, income and visitors to Brandon Marsh Nature Centre.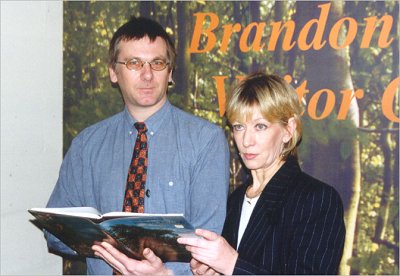 PHIL DICKIN AND PAM BANKES GREGORY

Phil Dickin previously worked for the British Trust for Conservation Volunteers in Birmingham, but prior to that has worked for Lancashire County Council and BP, as well as gaining a degree at Preston Polytechnic in 1991.

Speaking about his work, Phil said:
"I hope to build on the progress made by my predecessor, Chris Thomas and develop the community aid education activities of the Trust throughout our area. I hope we call work with more schools, children and young people to show them the importance of our local environment to all our lives. I am sure we can also do more to help local community groups by providing more training and support too."
Pam Bankes Gregory has a professional marketing background in both commerce and charities, having worked for the Department of Trade and Industry business training and advisory network, as Marketing Manager with Henley College and Appeals Manager at Coventry Homes.
Pam said
"I am delighted to join Warwickshire Wildlife Trust at such an exciting point in their development. The Trust has tremendous drive and commitment to the challenging task of safeguarding the wildlife habitats and countryside ill the County and I look forward to building on their already considerable success. "
Trust Director Dr Andy Tasker, added:
"Now that Phil and Pam have joined the management team at the Trust I feel we will be stepping up a gear in our work, providing more help for people and the environment, and, hopefully, getting more supporters at the same time."