[08 JUN 00] GODIVA FESTIVAL NEWS
Skate Naked In The Park This Weekend

If you see a man with a lit sparkler coming out of his rear end at the Godiva Festival, don't be alarmed.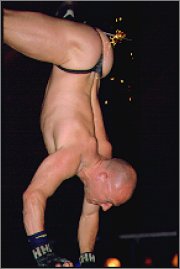 It will be one of the performers from Skate Naked bringing their unique brand of wit to the cabaret tent in the Memorial Park.
The popular duo's slapstick routine has been a huge crowd-pleaser in the last two festivals, and they are headlining this year's bill in the Fool's Paradise tent
Also appearing will be the Chipolatas, who were performing in the street festival in the city centre last week.
Juggler John Teasdale will bring his unbelievable unicycling tricks to the crowds, and Wolly the clown will also be making an appearance.
There are matinees on both Saturday and Sunday afternoons, and an extra evening show in the tent on Saturday, starting at 6.30pm.
Indie band Bellatrix will be one of the main groups appearing on the music stage this year, which has been moved into a tent to protect the revellers from any rain, and the neighbourhood from the noise.
The music will start on Friday night, continue on the Saturday and take a more relaxed feel on Sunday as folk and jazz take to the stage with favourites including Endless Knot and Kevin Dempsey and Tom Leary.
Other acts performing on Saturday are Angelica – described as four riot-grrrls from Lancaster and Queen Adreena, along with local groups Swamp Donkey, Dreamgrinder, Newmatics and Swarf.
Fans of world music will be able to strike a groove in the rhythm tent, which captured the best atmosphere of the rain-stricken festival last year.
There will be hip hop from 5pm to 11pm on Friday, and a mix of world rhythms on Saturday and Sunday.