[15 NOV 99] LADY GODIVA NEWS
Don't Drop Lady Godiva

Councillors in Coventry were today urged not to drop one of the city's most famous figures from their corporate logo.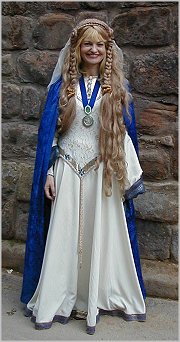 PRU PORRETTA AS LADY GODIVA
[photograph taken September 1999]
The Executive Co-ordinating Committee will meet on Wednesday to discuss the possible removal of Lady Godiva from their identity, but Pru Porretta, who portrays Godiva in the city, believes it would be a great shame.
She said:
"There are cities all over the country that are crying out for a historical figure like Lady Godiva to latch onto.

"You have to remember that although she is famous for the ride through the city, she was actually responsible for bringing business to the city through her involvement with the church and attracting pilgrims.

"She is synonoumous with this city and she is a figure of history for life, and I would consider the change of Millennium as another way to commemorate her, not a point at which to drop her."
Porretta now hopes that the council will continue using the image of Godiva on horseback, but believes that either way she will remain a firm part of Coventry's identity.
"Whatever happens people will not forget and when you look around Coventry there are Godiva Harriers, Godiva Festivals and firms that have picked up on the name."
This view was echoed by Peter Walters, Head of Press and PR with partnership company Coventry and Warwickshire Promotions, who said that Godiva was a recognisable symbol far outside Coventry.
"As part of the Imaging Working Group, we brokered the new city slogan Coventry Inspires. We run the Godiva Festival and are quite happy with that title.

"We also use Pru Porretta and there is no doubt that Lady Godiva does strike a chord with people – after all it was a question on Who Wants To Be A Millionaire? over the weekend!

"It is little like Robin Hood and Nottingham, one is associated with the other. Nottingham toyed with ditching Robin Hood but decided against it and I think that was probably a wise decision.

"Whether it is dropped from the city letterheads is really up to Coventry City Council."