[27 OCT 98] COVENTRY HEALTH AUTHORITY PRESS RELEASE
Arthur Spoonful - The Pharmacy Campaign

A campaign to communicate the health promotion role of community pharmacists is being launched this week by Coventry Health Authority. This will be a city wide initiative involving all 83 pharmacy outlets.

The aim of the campaign is to let people know that they can approach their community pharmacist for advice on many areas, and that they are not just there to count tablets! We can all approach our pharmacist for advice in many areas, including medicines, minor ailments, healthy eating, sexual health, physical activity giving up smoking. There are many advantages of approaching your pharmacist for help, and you don't need an appointment.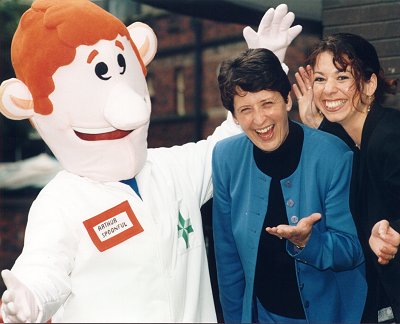 ARTHUR SPOONFUL WITH CAROLINE GALLOWAY, COMMUNITY PHARMACIST ADVISOR AND RACHEL ZALDUA OF HEALTH PROMORIONS SERVICES


To help with our campaign, Coventry Health Authority have introduced Arthur Spoonful, a giant-sized cartoon character. He will feature on a leaflet which is being distributed throughout the Coventry area in libraries, GP surgeries, pharmacies etc. This leaflet informs people on how they can get the most out of their community pharmacist and the benefits to be attained from this. This leaflet includes a Word Search competition in which a music centre, (sponsored by AAH Pharmaceuticals,) can be won. Each entrant needs to fill in the competition and return to their local pharmacy. Every person that enters will receive a free fridge magnet which can be used to keep the leaflet in a safe place.

The foam filled character will be visiting community events throughout the Coventry area, accompanied by a trained pharmacist to give advice. Venues already confirmed include Sainsburys, Bell Green; Canley Evangelical Church; Coventry City Mission Centre, Wood End; Boots the Chemist, The Precinct; Central Library. Arthur will also appear with Stuart Linnell in an outside broadcast in the city centre on Monday 2 November, which will feature a celebrity guest.

Rachel Zaldua, Communications Specialist for Coventry Health Authority says
"The idea of this campaign is to inform people that their local pharmacist can give advice on a whole range of issues, and the benefits are that you don't need an appointment."
MORE INFORMATION:
Rachel Zaldua, Communications Specialist 01203 633066