[18 SEP 01] UHCW NHS TRUST NEWS
Local Hospitals Putting Patients At Risk

FOR THE LATEST NEWS FROM THE UHCW NHS TRUST VISIT THEIR WEBSITE : www.uhcw.nhs.uk

Three local hospitals have been severely criticised in a report from a health watchdog.

The report from the Commission for Health Improvement (CHI) identifies a number of serious failings following a routine inspection of University Hospitals Coventry and Warwickshire NHS Trust.

The report covers the Walsgrave Hospital, the Coventry and Warwickshire Hospital and the hospital of St Cross in nearby Rugby.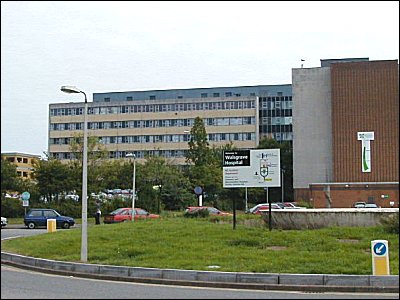 WALSGRAVE HOSPITAL, COVENTRY - THE SITE FOR THE NEW SUPER-HOSPITAL
CHI identified five areas of most concern:
the unacceptable risk to patients of putting five beds in bays designed for four


death rates for both emergency and non emergency admissions are higher than the national average


accident and emergency services


the breakdown in communication between some senior medical consultant staff and senior trust managers


the failure of the trust to ensure that, until the new hospital opens, services continue to be provided safely and effectively.
Sick patients are being put at risk by being transferred between the hospitals of the Trust according to the report. The Trust is also criticised for a culture in which doctors fear being victimised for voicing concerns.
The report highlights the unacceptable procedure of putting five beds in bays designed for four. This has put patients at serious risk, but as a result of the review, the Trust is already taking steps to prevent this practice.
The report is not all negative. The CHI does commend the Trust for its multi-faith chaplaincy and its good training and development resources for staff.
Peter Homa, CHI Chief Executive, said:
"This report highlights very serious issues at Coventry and Warwickshire trust which need urgent attention if local people are to have confidence in their health service. The trust is currently forming an action plan in response to our report and this must demonstrate clearly what steps will be taken to improve patient care.

"CHI is the independent, authoritative voice on the state of the NHS. Where services need urgent attention we will say so clearly".
The Trust's chief executive, David Loughton has said that "immediate steps" are being taken following the report.
The Trust will have a new £290m 'super-hospital' built by 2006 bringing together all the services together on one site at Walsgrave.
The Commission for Health Improvement is an independent body set up to help the NHS monitor and improve clinical care across England and Wales. CHI undertakes clinical governance reviews in every NHS trust, health authority, primary care group or trust and local health group across England and Wales on a rolling programme.
The University Hospitals Coventry and Warwickshire NHS Trust was formerly the Walsgrave Hospitals NHS Trust. It changed its name in 2000 when it achieved teaching hospital status.