[29 MAR 01] HEAR'SAY NEWS
Coventry Teens Gather At The Shrine Of Hear'Say

Hundreds of HearíSay fans put their education on hold today to queue for a glimpse of the stars as they visited Coventry.

Despite the event at Virgin Megastore in the Precinct being arranged for 4pm, teenagers lined across the bridge near the store for a good view of the latest pop sensations.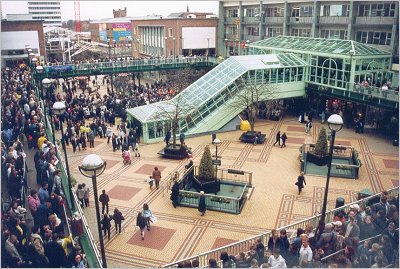 FANS QUEUE TO MEET HEAR'SAY
[photograph by Avon Studios - 29 March 2001]
The group were selected on national TV in Popstars Ė a series that gripped the country as the eager hopefuls were whittled down to the final five.
Their debut single 'Pure and Simple' broke all sales records for a groupís first song.
Coventry was selected as one of the very few places to host the group as they promoted their album. Similar events across the country have been cancelled because of safety fears.
Schoolchildren who miss lessons could get into hot water.
A spokesperson for Coventry LEA said:
"The LEA liaised directly with Virgin Mega Store prior to the visit, it was agreed that the visit would take place after school hours to give children a chance to get into the city centre.

"They are being responsible by holding the event out of school hours.

"Educational Welfare Officers will be liaising with schools and any unauthorised absences will be followed up."
Cllr George Duggins, Cabinet Member (Education and Library Service) said:
"Attendance in school is not an option it is a requirement. The visit is planned for 4pm this afternoon, which gives children ample time to get into the city centre to see the pop group without missing out on their education."