[30 MAR 01] HEAR'SAY NEWS
Hear'Say Welcomed In Coventry
BY CHRIS STUDMAN

Around 5,000 boys, girls, men and women flooded Coventry Precinct to catch a glimpse of pop wonders Hear'Say yesterday afternoon.
The Popstars popsters were in town to launch their obviously named first album, 'Popstars' at the Precinct's Virgin Megastore.
Fans of all ages began queuing as early as 5am for the chance to meet, greet and even snatch a kiss from their new found music idols.
Despite starting almost an hour earlier than scheduled at just after 3pm not all the fans could be fitted in during the marathon three hour autographing session.
Those fans who did get to meet the stars and get their copy of the new album signed went away happy. Some were so happy that they even burst into tears as they were ushered on by stewards.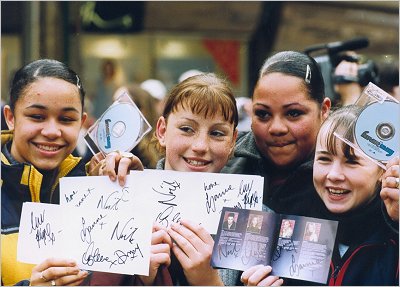 [photograph by Avon Studios - 29 March 2001]
Coventry had been chosen for the album launch for its central position in the country outside of London. And also because the Virgin Megastore had the capacity to host such an event.
Not all Coventry citizens however gave Hear'Say such a hearty welcome. Coventry Kid and popmaker extraordinaire Pete Waterman dismissed the group in the Daily Star as "a group of overexposed karaoke singers".
'The Hitman' Waterman has a sound track record to back his views having manufactured hit upon hit for the likes of Kylie Mynogue, Jason Donovan, Rick Astley and more recently Steps, but 5,000 music lovers in Coventry Precinct certainly didn't agree with him yesterday.