HERITAGE - YESTERDAY'S VIEWS
Naul's Mill Park, Coundon, Coventry
BY DAVID FRY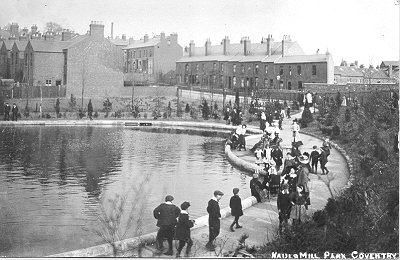 NAUL'S MILL PARK c 1909 [WATERMAN]
Nauls Mill Park had only recently opened when this picture was taken - the shrubs by the Middlesborough Road entrance, shown above, are clearly recent plantings.
Just a few years earlier Middlesborough Road had been a cul de sac with a footbridge by the park entrance that crossed Radford Brook, leading to Coundon Road.
The southern part of what is now Middlesborough Road was already built but known as Radford Street. It was not long before the two roads were united as one.
Meanwhile, to judge by the crowds, the opening of a park at Naul's Mill was a great success. It was on the edge of the countryside and would have been valuable land for development but its enlightened use as a park provided a valuable green lung for Coventry workers over several generations.
Though less of an attraction today its undulating site and expanse of water make Naul's Mill Park one of Coventry's more interesting parks.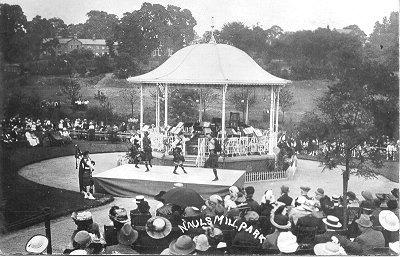 NAUL'S MILL PARK c 1911 [WATERMAN]
[NOTE BARRS HILL HOUSE IN THE BACKGROUND]
Maybe the occasional open-air concert might attract some people back.
The bandstand was the focal point of attention when various bands, especially the military played there. The 2nd Seaforth Highlanders were amongst the most popular, even offering some Highland dancing thrown in! Only the rattle from trains passing by Coundon station could compete with the bagpipes.