HERITAGE - YESTERDAY'S VIEWS
Stoney Stanton Rd / Bell Green Rd,
Courthouse Green, Coventry
BY DAVID FRY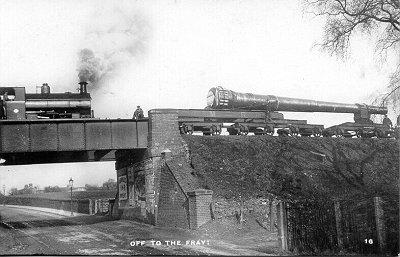 RAILWAY BRIDGE, STONEY STANTON ROAD - 1915 [HHT]

One of the recent victims of the new North/South Link Road has been this bridge over the Stoney Stanton Road - a roundabout now stands in its place.

Apart from railway enthusiasts the passing of the line is no more to be mourned than the coming of the new road; both have brought noise and pollution in their wake.

The line shown here had only recently been opened, in 1914, as a loop line between the main Coventry-London line and the Coventry-Nuneaton line.

This was the perfect servant of the Ordnance Works that was located lower down the Stoney Stanton Road.

The view shows an engine moving backwards towards the Nuneaton line with a cargo of gun barrels for naval warships. As the caption ["Off to the fray!"] suggests the enthusiasm for the early stages of the First World War was still being proclaimed.

The photographer has his back to the city looking towards the village of Bell Green where the trams travelling up the Stoney Stanton Road from Coventry ended their journey.

The area of land to the right, just past the bridge was virtually the only open countryside along the whole journey, even then.