HERITAGE - YESTERDAY'S VIEWS
Woodway Lane, Walsgrave, Coventry
BY DAVID FRY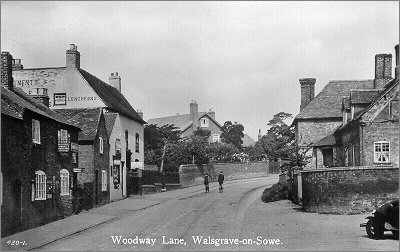 WOODWAY LANE, WALSGRAVE ON SOWE c1930 [TEESEE]

When writing the first Coventry We have Lost book we used a 1906 version of this view which in many ways was not much different to this 1930 view – if only the same could be said today.

It would be almost impossible to place the picture below without the large house remaining on the left. Although it is still as derelict today as it was in 1990 it is a significant link with the rural past of Walsgrave.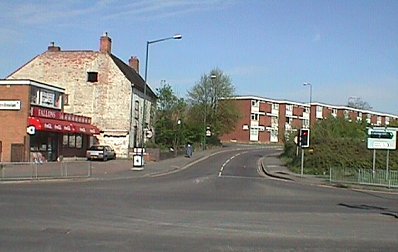 WOODWAY LANE, WALSGRAVE ON SOWE c1999
But far from being cherished and restored the old farmhouse is now to be demolished. It should be valued as part of the village identity in the same way that the church might be.
It is understandable that locals do not want to continue to live with a building that has been unoccupied since the 1970s but with so few older buildings left in the village surely it is better to be retained in a restored condition - perhaps converted to flats.
It is a situation that has been repeated throughout Coventry this century but I had hoped that sensitivity to the past would prevent such planned vandalism. At least the demolition was not supported by the planning department, but amazingly it was by the local councillor who you would have imagined might have shown greater sensitivity.
The Victoria County History for Coventry describes the demolition of many of the most significant buildings in the village as happening as late as the 1960s. Many of the cottages in the top view above went in 1963 with the widening of the Hinkley Road.
However, they proudly describe the survival of two medieval houses. One of which is shown on the right of the first picture – Village Farm. This house contained blackened roof timbers, the sign of an open hearth used before the introduction of chimneys.
However, since the publication of the County History in 1969 even this building has been demolished. Why this happened is not clear as the site is simply waste ground. At least new housing is planned for the site of the coming demolition.
So much of what gave Walsgrave people a sense of place and continuity with the past has gone. The buildings missing from the modern picture have their counterparts in other views of the village.
For those familiar with the village today a glimpse at the 6" Ordnance Survey map of 1920 will indicate how much has been destroyed.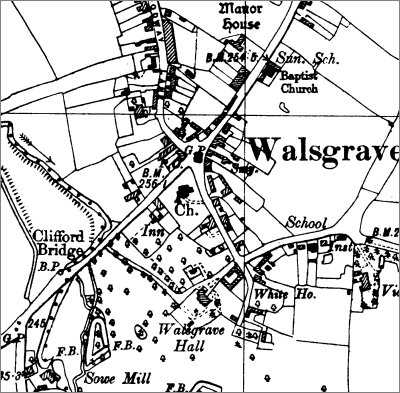 SIX INCH ORDNANCE SURVEY MAP OF 1920

How many pre 1920s buildings do survive?

Certainly you will not find the Hall, the Mill, the Manor House or hardly any of the larger Walsgrave buildings. A few more can be found along Woodway Lane, but only a handful on the southern side of the main road.

I will be featuring more of these missing buildings in future articles.