[15 JAN 01] ELEPHANT UP A POLE NEWS
Elephants Go Up An Apple Tree For Tradition's Sake
BY ANTONY HOPKER

Coventry city centre will be full of Elephants this Saturday as a tradition dating back hundreds of years is played out.

Morris dancers from all over the country will be coming to the city for an annual Wassail organised by Coventry side Elephant Up A Pole.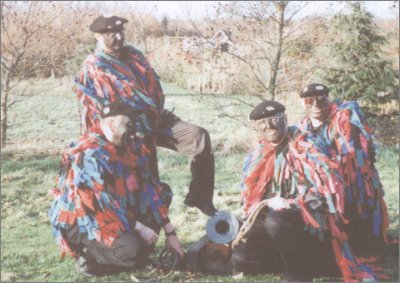 MEMBERS OF ELEPHANT UP A POLE AT A PREVIOUS WASSAIL AT RYTON ORGANIC GARDENS
They will be dancing around the city centre on Saturday 20 January between 10.30am and 12.30pm at Shelton Square, the Broadgate canopy, outside the Herbert Art Gallery and at the fountain in The Precinct.
Up to 100 dancers will then gather in the cathedral ruins at 2.30pm for more dancing in a variety of traditional Morris styles.
The action will then resume the next day in Wolston before a traditional wassailing ceremony is held at Ryton Organic Gardens.
Sixteen Morris sides, including teams from Kenilworth, Solihull, Northamptonshire , Kent and Essex will gather for the wassailing of an old apple tree to encourage it to produce a good crop of fruit at 1.30pm.
Pieces of cider-soaked toast are lodged in the tree to attract robins to the tree. The birds are said to be good spirits in disguise.
A dance is then carried out around the tree by members of Elephant Up A Pole and a shotgun is fired at the tree to ward off evil spirits. Cider made from the tree's previous crop is then drunk.
Derek Grimley, squire of Elephant Up A Pole, said:
"The wassail is held on the weekend closest to Old Twelfth Night on 17 January. It is a tradition that dates back centuries and was revived in Coventry by Elephant Up A Pole nine years ago.

"The weekend is an excellent chance for different Morris sides to get together from all over the country.

"It is quite a spectacle as there are several different styles of Morris dancing all being performed in the same place.

"As well as dancing there is a lot of socialising and it is always a brilliant time for all those who take part and the people watching."
Elephant Up A Pole is a Border Morris side. They dance in rag tailcoats and have their faces blackened out.
The style originates from the Welsh Marches, where it evolved as a winter tradition danced by men who were unemployed because there was no work for them at that time of year.
They danced for beer money and wore a disguise so no-one would recognise them.