[19 JAN 01] ELEPHANT UP A POLE NEWS
Wassailing Away On The Webcam
BY ANTONY HOPKER

Dozens of Morris dancers showing off their best moves in Coventry city centre will be viewed all over the world this weekend on the CWN webcam.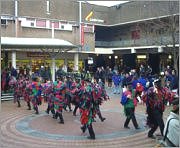 Morris sides from all over the country will be dancing around the city centre tomorrow as part of an annual wassail organised by Coventry group Elephant Up A Pole.
Ten different groups will be going through their traditional dances in Shelton Square, Precinct and outside the Herbert Art Gallery in Jordan Well.
The sides will be in two groups touring around these spots before everyone meets up in Broadgate at 12pm.
All the sides will then take it turns to dance opposite the Elephant Up A Pole which gives the group its name, and the whole event can be viewed on the CWN webcam.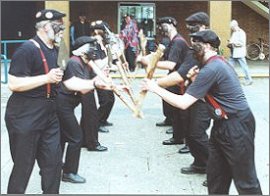 ELEPHANT UP A POLE DANCING JEWSON LOT OUTSIDE THE HERBERT ART GALLERY
The camera is being adjusted so it picks up the best of the action.
Elephant Up A Pole squire Derek Grimley said:
"There has been a lot of interest in this weekend, which is the biggest event of the year for us. It gives us a chance to show the people of Coventry the different styles of Morris dancing, and it also allows us to show the city off to visitors.

"It's great that people who cannot make it will still be able to get a feel for what is going on by looking at the webcam.

"There are a lot of people abroad who miss English traditions such as Morris dancing, and they will be able to get a reminder of home."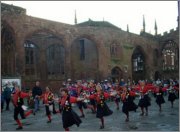 The Morris dancers will gather in the cathedral ruins at 2.30pm for more dancing, and will also perform at Wolston on Sunday morning from 10.30am.
The focus will then switch to Ryton Organic Gardens at 12.30pm, where a traditional wassail of an apple tree will be carried out.
Admission is £3 for adults, with under-16s getting in free.