[06 AUG 01] SHAKESPEARE BIRTHPLACE TRUST NEWS
New Museum For Stratford

Stratford has gained another historical treasure trove with the opening of a museum dedicated to British pewter.

The Museum of British Pewter was opened last Friday by Lord Gowrie, former Chairman of Sotheby's and Minister for the Arts at Harvard House in Stratford.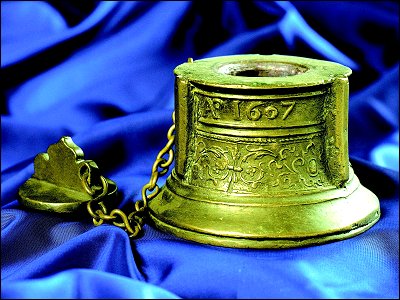 PEWTER INK WELL ON DISPLAY AT THE MUSEUM
Based on the generous donation of the Neish Collection, an extensive private collection, together with the Shakespeare Birthplace Trust's existing collection, the Museum displays trace the use of pewter from Roman Times to the present day.
Although now often neglected as a metal, pewter was in the past the most common choice for household items. Everything from vast chargers and tankards to delicate medieval pilgrim badges and even children's toys were made from pewter and can be seen at the new Museum.
The displays are arranged chronologically so that visitors can place what they are seeing in historical context. British-Romano platters recovered from the bed of the River Thames, are followed by a pilgrim badge depicting Thomas a Becket, chargers from Shakespeare's day, a tankard engraved with images of William and Mary, a teapot inspired by the Portland Vase and finally a display of modern designs in pewter, lent by the Worshipful Company of Pewterers.
Children can use an interactive computer program to explore the collection and the history of pewter. In the second part of the program, children can learn how to make pewter and create a virtual tankard.
The Children's Discovery area also features two 'hands-on' activities where children can examine original items and try to work out with the aid of a magnifying glass and a book of touch marks, who the manufacturer was, who it was made for and what it might be used for.
The Museum of British Pewter is situated in Harvard House, once the home of the mother of John Harvard, the founder of Harvard University. Visitors can find out about the history of the house and the life of John Harvard through displays on the upper floor of the Museum.
Roger Pringle, director of the Shakespeare Birthplace Trust, believes the Museum will become a popular attraction for visitors:
"Of course, most will come to Stratford because of the connection with Shakespeare, but this new museum offers something different – 2000 years of British history in microcosm. I think few will be able to resist its appeal."