[13 JAN 99] SPON END BUILDING PRESERVATION TRUST PRESS RELEASE
Medieval Buildings Linked To Birth Of City Car And Aircraft Industry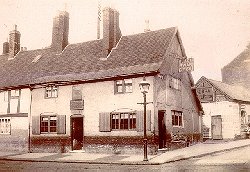 Researchers from the Spon End Building Preservation Trust have discovered that the 14th century timber frame building that they are planning to restore in Spon End also has connections with the birth of Coventry's motor and aircraft industries.
The discovery was made whilst members of the Trust researched the buildings history in order to produce a funding application for English Heritage. The building, known locally as Black Swan Terrace, is situated on the corner of Upper Spon Street and Barras Lane. It is Grade 2* listed but is currently on the English Heritage 'At Risk' register. The Trust hope to secure funding to commence work on the building in the spring. The cost of the project is estimated at over a million pounds.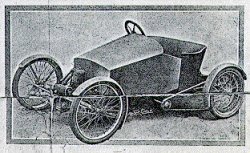 The link with Coventry's car industry has however come as a suprise. The stables to the rear of the former Black Swan public house were used by the Glover brothers in 1909/1910 to build their first production car. Even more remarkably the same brothers also constructed an aeroplane on the site in an attempt to win the Daily Mail challenge for the first flying machine to cross the English Channel. However the brothers were beaten to the £10,000 prize by the famous Bleriot in 1909.
This has been described as a remarkable discovery and when added to the other evidence of the buildings association with the cloth trades, silk ribbon weaving and watchmaking it makes it the only building in the city which can trace its history from cloth to cars over 600 years of Coventry's industrial development.
FURTHER INFORMATION: Kevin Noble sponend@geocities.com