[30 NOV 00] SPON END BUILDING PRESERVATION TRUST NEWS
Moira's Wet Fish To Be Freshened Up

One of Coventry's oldest buildings is to get a new lease of life after an agreement was signed to transform the medieval eyesore into a community facility.

Moira's Wet Fish Shop, the medieval terrace in Upper Spon Street, Spon End has been a local eyesore for over 10 years and has been on the English Heritage Buildings at Risk Register for most of that time.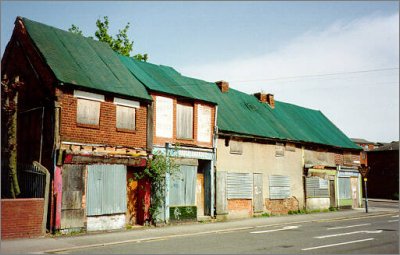 BLACK SWAN TERRACE AS IT IS NOW AND (BELOW) AS IT WAS
A deal has been signed between Coventry City Council and the Spon End Building Preservation Trust to lease the building to a local trust.
Control of the building which dates back to 1450 and is now known as Black Swan Terrace, was transferred today with the signing of a 99-year lease which will now enable the trust to begin work on refurbishment.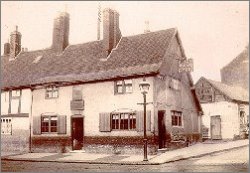 The first phase of the project will begin shortly Black Swan Terrace will be shrouded in scaffolding within the month.
Under phase one of the project the trust will carry out emergency repairs to stop further deterioration of the medieval timber frame, making it safe and weatherproof.
This will then enable the second and third phases, which will see the restoration of Black Swan Terrace and its transformation into a facility for the local community.
The buildings were originally compulsorily purchased by the city council for demolition over twenty years ago, as part of a clearance scheme in the area.
But behind the brick frontage was discovered one of the oldest timber frame buildings in the city.
Plans to move the buildings to the section of Spon Street within the ringroad were blocked by the formation of the Building Preservation Trust in 1994 and a campaign to have the buildings restored for the people of Spon End.
The scheme is to be funded by Coventry City Council, English Heritage and the European Regional Development Fund.
Trustee Kevin Noble said:
"We are grateful to the city council for allowing us to have this opportunity to restore these very important buildings for the local community and we thank the community, particularly the Spon End Forum, for their support and patience during the past six years".
Trust Administrator Colin Walker said:
"This building was here before Christopher Columbus discovered America in 1492 - but this is the start of a new chapter in its history".
The Trust has also launched a website for those interested in the project at
http://www.sponend.org.uk/history.htm
SEE [21 MAY 99] SPON END BUILDING PRESERVATION TRUST AWARDED TWO GRANTS