[05 MAR 01] SPON END BUILDING PRESERVATION TRUST NEWS
English Heritage Backs Black Swan Work

A derelict medieval terrace in Coventry has been singled out by English Heritage as a prime example of how skilled craftsmanship can restore buildings to their former glory.

The organisation, which is in charge of heritage and conservation across the country, has designated 2001 as the Year of Crafts and Skills.

Events have been arranged across the region to celebrate the skills that allow buildings to be conserved after decades of neglect.

Unable to travel into the countryside because of the foot and mouth restrictions, regional director Mary King visited Black Swan Terrace in Upper Spon Street in Spon End to announce the year of activities.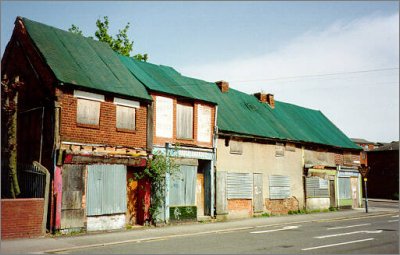 MARY KING VISITED BLACK SWAN TERRACE
She said:
"We are lucky in the West Midlands to be able to call on a wide range of skills - both traditional and more modern - for the understanding and repair of the historic environment.

"The repair of Black Swan Terrace in Upper Spon Street in Coventry is a good example of how this can work in practice.

"The Terrace is listed Grade II*, because of its exceptional historic interest, but it would be difficult to tell this from the outside.

"Over the years layers of alteration and decay have hidden a row of six 15th century timber cottages that survives in remarkably complete condition.

"Skilled research has enabled archaeologists to piece together its history and the Spon End Building Preservation Trust is harnessing the skills of conservation architect and craftsmen to repair the building without removing any of the important historical evidence that has been uncovered.

"The first phase will see urgent works carried out to stabilise and protect the structure, while further phases will see it converted into workshops as part of a project supporting the regeneration of the local community.

"It is appropriate that a building which started its life as workshops in the 15th century should, over 500 years later, again be providing workspaces, although those who work here now are likely to have modern IT skills rather than the traditional skills that the buildings first housed.

"English Heritage is very pleased to be supporting a project which shows how much historic buildings can still contribute to the quality of our lives today".
Colin Walker of the Spon End Building and Preservation Trust, said the visit from English Heritage was a good way of raising the project's profile.
He added:
"It's bound to do us no harm when we apply for the next phase of funding. The scaffolding is almost in place and the roof sheeting is going on shortly, and we are now waiting to hear about the next phase."
The Trust has a website with details of the project:
http://www.sponend.org.uk/sebpt
SEE [25 JAN 01] EMERGENCY REPAIRS START AT MEDIEVAL BUILDING