[23 NOV 00] COUNTY HALL, COVENTRY NEWS
Exclusive: Coventry 'Had TWO Guildhalls'

A Coventry historian has made a discovery that he says will require the re-writing of the history books – the city had not one but TWO guildhalls.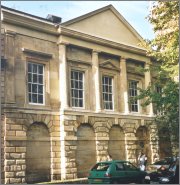 John Russell has believed that the site of County Hall used to be the home to a second guildhall.
He has been trying to find proof of this to encourage an archaeological dig to take place before the building is converted into a pub.
And yesterday the local historian, who calls himself Cov Kid, uncovered the evidence he says he needs to show that there was another guildhall in addition to St Mary's.
While researching the Sword and Mace riots of 1713, Mr Russell found witness statements relating to a fight between a political group and the Lord Mayor.
One person, Alice Mitchell, makes reference to people coming out of a guildhall and going along Bayley Lane, a few paces away from Derby Lane – which is now a loading bay for Cathedral Lanes shopping centre.
Crucially, one of the witnesses drew a map to explain where the riot was taking place. On it he identifies a guildhall on the site where County Hall now is.
Mr Russell has cross-referenced the rest of this map with earlier and later records, to make sure that the witness did not get the streets in the wrong place. All the other roads are in the correct place.
The map shows a guildhall on the left of Hay Lane, looking away from the High Street. If the guildhall marked on the map had been St Mary's it would have been on the right of the diagram.
Mr Russell said this discovery, in legal statements, showed there was another guildhall in Coventry.
He says if several people who lived in the area put the building in the same place in important documents they would have had their error pointed out if they had all got it wrong.
He said:
"I've been working on this for three years. It was only when I looked at the 18th century for some other research that I found what I was looking for.

"The city's history will have to be re-written. There are many references to the guildhall, and everyone assumes it was St Mary's."
Mr Russell said that the foundations of County Hall are similar to those used for St Michael's and Holy Trinity, indicating that it was built on an older building.
He has prepared a history of the County Hall site, and is looking for a publisher to help him get a book out on the subject.
Anyone who can help should email him at covkid@lineone.net
SEE [14 AUG 00] DIG FOR HISTORY, URGES ENTHUSIAST