[22 AUG 00] HERITAGE OPEN DAYS FACTFILE
Walls Came Tumbling Down At Swanswell

One of the last remaining bastions of Coventry's medieval defences will be seen at this year's Heritage Open Days.

Swanswell Gate is one of two remaining gates that provided the city with its link to the outside world.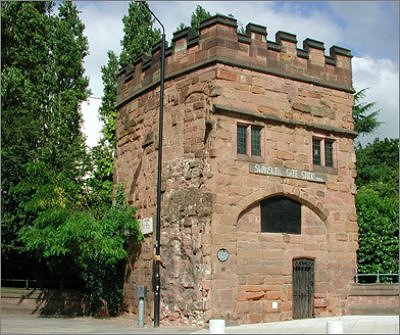 SWANSWELL GATE
During medieval times, the city walls were an impressive sight to strangers.
Coventry was one of the richest and most powerful cities in the country, and in 1355 work began to build defences worthy of its stature.
Work continued until the early 16th century. Various town notables requested that the design be change to include their property.
In 1450 the city authorities decided that there should be a metal portcullis to protect against attack.
The people of the city put the gates to good use during the Wars of Roses, refusing Edward IV entrance to the town. They were led by the Earl of Warwick, who died weeks later.
Edrward returned to the city and stripped it of many of its rights as a punishment, and imposed a heavy fine.
The lesson didn't stay with the populace. 170 years later, in 1642, Charles I tried to force his way through the wall.
His gunners managed to blast their way through, only to be greeted by the people of the city hurling everything they could find into the gaps to drive the soldiers away.
Charles II decided that the walls had to go, and sent the Earl of Northampton to breach them in 1662.
Only a few sections survived, and many of them became hidden by later developments. They survived the bombing and became visible for the first time in years when large sections of the city were cleared to make way for the ring road.
Nowadays there are just surviving two gates – Swanswell and Priory – but much of the original route can be followed.
The Swanswell Gate was converted to a home and a workshop in the 1820s, and currently is empty. It expected to be refurbished soon and let as a retail unit after the previous occupant, a potter, left two years ago.
Tours of the walls will be run for the Heritage open Days weekend by local historian Joe Davies. They will start at 11am and 2pm on both days. They will take 1.5 hours.
The gate itself will be open between 11am and 5pm each day.
KEY DATES:
1355 Work begins on town wall
1450 metal portcullises put in
1472 townsfolk combine to keep out Edward IV
1642 Charles I is also refused entry
1662 Charles II sends the Earl of Northampton to destroy much of the walls
1771 Spon Gate demolished
1820 Swanswell Gate converted to a workshop