[01 SEP 00] HERITAGE OPEN DAYS FACTFILE
Everyone Wants To Go To School

One of the biggest hits of the last Heritage Open Days will be throwing its door open again to show off its refurbished glory.

The enthusiasm for a chance to look around the old Blue Coat school was one of the highlights of last year's weekend.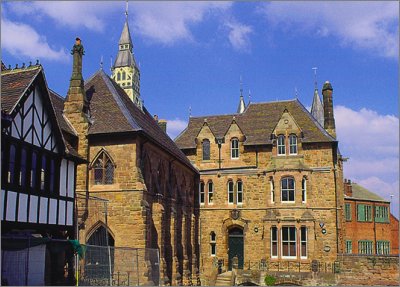 ROOMS WITH A VIEW - THE OLD BLUE COAT SCHOOL
People in Coventry couldn't wait for a chance to look at the old building, and the fascinating archaeological dig next to it that was uncovering Godiva's Benedictine priory.
Now Blue Coat school, in Priory Row, has been renovated and is due to become the new centre of Holy Trinity hall, replacing Drapers Hall.
Godiva's priory was the only cathedral to be demolished by Henry VIII during the Reformation, as it was such magnet for pilgrims and a symbol of Catholicism.
The stone was used as a city centre quarry, and the magnificent building vanished.
In 1648 the vicar of Holy Trinity, the Rev John Bryan, was allowed to build a house on the site, and it was this building that probable became the basis for the Blue Coat school, found in 1714.
It was funded by voluntary subscriptions and was the first charity school set up in Coventry to educate girls. Its purpose was to train the girls to prepare them for entering domestic service.
The building took its present form in 1856, when it was re-built. The foundations from the old cathedral were discovered and left exposed for posterity.
By the Second World War, the school had outlived its usefulness and the building was handed over to the local authority.
The final pupils left in 1940 when they were evacuated during the Blitz.
It has since been used as a school for bus conductors, a canteen for transport workers and a base for the Samaritans.