[07 SEP 00] HERITAGE OPEN DAYS FACTFILE
Scan The City Skyline For Free

Visitors to this year's Heritage Open Days in Coventry will be able to get an inside glimpse of one of the most striking parts of the city skylines for free.

The tower of the old cathedral will be open for free trips.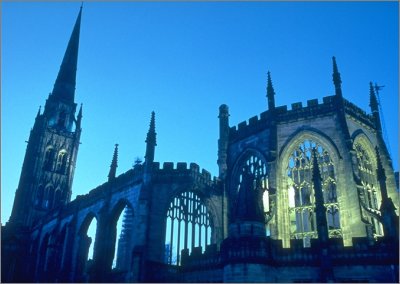 DAUNTING PROSPECT: VISITORS CAN GO UP THE TOWER FOR FREE
One of the three spires that has helped make Coventry famous, it is one of the highest towers in the country, standing at 295 ft.
It survived the Nazi bombing raid of November 1940 and was retained by the church authorities after the war.
When the competition to re-build the cathedral was set up, many parts of the ruins were left in the hands of the architects and designers.
But the authorities insisted that the tower must remain.
Basil Spence's winning designs chose to use the available land stemming out of the side of the ruined cathedral.
The grand tower was the crowning glory of what was one of the largest parish churches in Britain before it became a cathedral.
St Michael's church was founded in the 12th century by the Earl of Chester. In those days it took a much smaller form, and evolved throughout the ages.
The tower was not completed until much later. The lower section dates from 1373-94, and the spire was added in 1432.
The spire, which was the scene of a daring tightrope walk on new Year's Eve last year to mark the millennium, is 136 feet high.