[28 AUG 01] HERITAGE OPEN DAYS NEWS
New And Old Open For Heritage Weekend

The youngest star of Coventry's Heritage Open Days 2001 is just over a year old.

Coventry University's Lanchester Library, opened last year is the most modern building in a programme of 12 city sites dating back to the 13th century.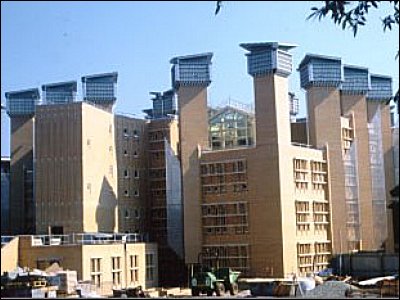 LANCHESTER LIBRARY, COVENTRY UNIVERSITY
Heritage Open Days is part of a national scheme run by the Civic Trust to give free access to buildings that are not normally open to the public or that normally charge an entrance fee. It takes place on Saturday 8 and Sunday 9 September.
Local organisers Coventry and Warwickshire Promotions have put together a building trail for 2001 that spans the old and the new, the high and the low and the sacred and the secular.
The oldest site in the city centre trail is Holy Trinity Church, where some parts date back to 1215. There are also two medieval former religious houses open over the weekend - Whitefriars, off London Road and Charterhouse on London Road.
The youngest site, Coventry University's Lanchester Building, opened in 2000 is also one of the most environmentally friendly buildings in the country. Another newly opened Coventry University building on the route is the Ellen Terry Building, better known as the converted Odeon Cinema, Jordan Well.
The tallest site is the spire of Coventry Cathedral Ruins at 245ft, where you can get a magnificent birds-eye view of the heart of the city. The lowest sites are the crypt chapels in the Cathedral ruins and Coventry Tourism Centre's spooky medieval cellar recently used for research on ghosts by Coventry University.
The most beautiful secular buildings open are St Mary's Guildhall, arguably the finest preserved medieval guildhall in the country and the Council House with its splendid Council chamber and suite of Lord Mayor's rooms.
There is also a lively entertainment programme based in and around the buildings, which includes events in Priory Gardens and at the Herbert Art Gallery. It's also the first chance to see Thrust SSC at the Museum of British Road Transport on Sunday.
Most buildings are open 11am-5pm both days. Leaflets giving full details of the Heritage Weekend are available from Coventry Tourism Centre, Bayley Lane 024 7622 7264 / 7266.