[29 AUG 01] HERITAGE OPEN DAYS NEWS
Kids Join In Heritage Weekend

A new children's activity programme is to be launched at this year's Heritage Open Days which take place over the weekend of 8/9 September.

The free programme aimed at children aged 8-10 comprises a series of activities on a historical theme based in and around the buildings open for Heritage Open Days. The event is supported by a 3-year Heritage Lottery Fund grant of £42,500.

Children can learn about the history of their city through hands-on activities. Each of the events ties in with a period in history linked with the building where it is taking place.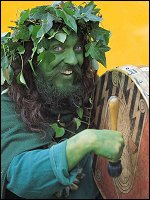 There are creative activities like mask-making, learning how use a quill pen, making a brass rubbing or creating a historical toy. Other activities include face painting, historical instrument playing, cinematic workshops and story telling.
There is also a chance to meet and talk to characters from the city's history including Lady Godiva, the Black Prince, Henry VIII and the Green Man. There will also be a series of plays that depict the lives of St George, a murderess, an imprisoned queen, children of the Blitz and a real life gladiator.
Children will also be able discover the different buildings in the Heritage Open Days Programme, travel on an old bus from the Museum of British Road Transport and see Thrust SSC, the fastest car in the world.
Heritage Open Days Co-ordinator Hilary Hopker said:
"The activities programme aims to teach children more about the history of the city where they live in a fun way. It should prove an interesting and enjoyable weekend for all the family."
Heritage Open Days is part of a national scheme run by the Civic Trust.
The buildings open this year are Holy Trinity Church, Whitefriars, Charterhouse, the Lanchester Library, the Ellen Terry Building, the Cathedral ruins, the Coventry Tourism Centre Cellar, St Mary's Hall the Council House, Priory Gardens, the Herbert Art Gallery and the Museum of British Road Transport.
Free leaflets on the children's activity programme are available from Coventry Tourism Centrre, Bayley Lane on 024 7622 7264 / 7266. Email heritage@coventry.org.