Angling in Coventry & Warwickshire
BY PETER CLIFF

[11 MAR 99] LOCAL ANGLING TRACKS THE WEATHER

The Coventry and Warwickshire angling scene is a bit like the weather. When it's cold, windy and raining it's awful, but when the sun comes out the fish start feeding like there's no tomorrow.

Although most fisheries are reporting a low turn out, those who do brave the elements are catching some decent fish.

Good catches are coming in at Packington's Molands Mere in Meriden where local engineering company managing director Aubrey Smith from Balsall Common recently took a nice 20lb 10oz pike using a mackerel, and one nine-year old, fishing with his dad, landed an even better 27lb 10oz specimen fishing roach deadbait in Horseshoe Bay.

This winter has also seen the water's carp record broken yet again, this time with a beautiful 38lb Mirror which was caught by Birmingham angler David Victoire.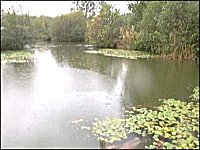 Other waters on the site are also doing well with 4-5lb carp regularly coming out of the recently reshaped Anniversaries; 2-4lb tench from the deeper parts of Siblings and good catches of roach and bream from Gratuities.
Geary's, being shallower, is quick to react to the weather and cold snaps turn the fish off instantly although they quickly recover when the sun comes out and temperatures rise.
Over in Coventry, John Bloor's new Frog Hall Match Pool has had a storming start to the year. The last match in February was won with 47lbs with second place coming in at 42lbs. The next two weights were 29lbs and 28lbs, but other back-up weights are unknown because many anglers didn't bother to weigh in once they saw 40lbs-plus weights coming out.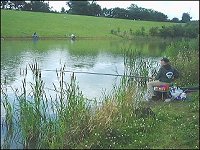 It's not surprising that Sunday matches are booked up well into the future with most Saturdays also taken. However, for mid-week dates are free for those who can get away.
Lambsdown Lake, John's main Meadowlands water, is also fishing well with a recent match being won with 24lbs and back-up weights of 17lbs and 14lbs.
Warren Pool is yielding 30lbs bags of Crucian Carp for pleasure anglers with most of the fish being in the 12oz to 1lb 4oz range.
Tunnel Barn Farm at Shrewley, near Warwick, reports nice carp between 8lbs and 10lbs coming out of Top Pool where decent shows of bream are also falling to the pole, whilst several perch over 2lbs have been taken on Bottom Pool.
Things are also on the boil at The Riddings Fishery, Grendon, near Atherstone, a delightful but little known spot which offers something for every one from specimen carp to silver fish and crucians.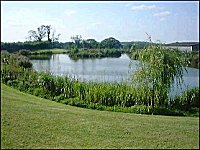 Indeed, the Specimen Pool, which is the most difficult of the Riddings water to fish, has been giving the best results of late with seven 20lb plus carp being taken in the last week of February alone and half a dozen between 14lbs and 19lbs. All are falling to legered boilie.
Results from Riddings Pool, the fishery's main match and pleasure water, also stack up well. The most recent Wednesday Open was won with 19lbs with 18lbs and 12lbs coming in second and third. Again, plenty of carp are showing in the 8oz to 3lb range whilst those going for roach can have a netful if they use casters.
Meanwhile, on the local trout scene, a decent few weeks have been had at Ardencote Manor, Claverdon, near Warwick, despite some appalling weather - and the hardy types have been catching some decent fish. Intermediate lines is the favoured method at the moment with Gold Head Damsels and Cats Whiskers once again the flies to use. Best catch last week fell to Ian Mochrie of Coventry who had five fish for 16lbs 4oz including one at 4lbs 4oz which was taken on a cats whisker. A good number of limit bags were taken and the average fish weight was 2lbs 8oz.
The Troutmasters "Fish-Off" for Ardencote is on Sunday 14 March so the fishery will be closed on that day to non-participants but spectators are welcome to watch.