[20 OCT 98] JAGUAR PRESS RELEASE
Launch Of New S-Type Saloon Signals New Era For Jaguar

Jaguar's new S-TYPE sports saloon, the company's most eagerly awaited new model for decades, makes its world debut today at the Birmingham International Motor Show. The new S-TYPE, designed and developed at Jaguar's Engineering Centre at Whitley, Coventry, will be built at the company's Castle Bromwich plant in Birmingham and goes on sale in March 1999.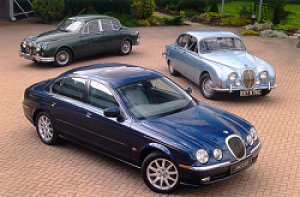 The Jaguar S-TYPE is an all-new, more affordable, compact, luxury sports saloon to complement and extend Jaguar's existing range of XJ Series saloons and XK sports cars. S-TYPE is the company's first compact saloon since jaguar pioneered the market in the nineteen fifties and sixties with the legendary Mark 2 and original S-Type. The new S-TYPE is positioned below Jaguar's XJ Series saloon range in both size and price and will compete in one of the fastest growing segments of today's passenger car market.
The recently launched V8 XJ Series saloons and XK sports cars are today achieving customer satisfaction levels which rival the world's best competitive standards. As a result, Jaguar is on course to achieve record sales in 1998, with annual sales exceeding 50,000 cars for the first time in the company's history. The introduction of S-TYPE will build on this success. With a three-model line up, Jaguar expects to sell around 85,000 cars in 1999, effectively double the level achieved in 1997, rising to over 90,000 cars in the year 2000, the first full year of S-TYPE sales.
Jaguar forecasts worldwide sales of 40,000 S-TYPES in 1999, rising to over 55,000 cars in 2000. The largest markets for S-TYPE will be Europe and the USA, each taking around 40 per cent of world sales. The UK alone will take around 20 per cent, Germany 8 per cent and Japan 5 per cent of total sales.
Commenting on Jaguar's new model, Nick Scheele, Chairman and Chief Executive, said:
"The new S-TYPE is a true Jaguar thoroughbred, ably representing the company's core marque values of distinctive style, refined power, agile handling, supple ride and luxurious comfort. While S-TYPE's instantly recognisable styling signature evokes the spirit of its acclaimed antecedents, the Mark 2 and original S-type saloons, advanced technologies set new standards in terms of durability, quality, reliability, customer convenience and driving pleasure."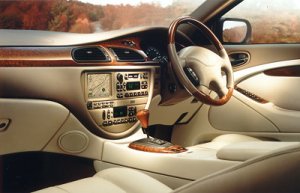 Leading-edge design technologies ensure that S-TYPE bodies are built to a consistently high standard of quality, incorporating all the associates values of strength, refinement, durability and craftsmanship. The modern, spacious interior achieves a harmonious blend of ergonomic excellence, safety engineering and high quality, hand crafted natural materials.
The new all-aluminium, 240 bhp (DIN), 3.0 litre AJ-V6 and proven, 280 bhp (DIN), 4.0 litre AJ-V8 engines employ innovation in design and manufacture to deliver outstanding performance, refinement and driveability, combined with excellent fuel economy and low emissions. Designed especially for S-TYPE, the high output 3.0 litre AJ-V6 is the company's first ever production V6 engine and shares many design features with the larger AJ-V8, including combustion system, cooling system, cylinder head and valve gear.
The 4.0 litre AJ-V8 engine is similar to that fitted to the Jaguar XJ saloon and XK8 sports models, further refined for its S-TYPE application. S-TYPE also features new five-speed manual (3.0 litre) and five-speed automatic (3.0/4.0 litre) transmissions, while a bespoke powertrain electronic controller provides significant advances in refinement, driveability and reliability.
S-TYPE, in both three and four litre forms, is an impressive performer. The 3.0 V6 manual sprints from zero to 60 mph in 6.8 seconds (8.0 seconds for the automatic) onto a top speed, where conditions allow, of 146 mph (auto, 141 mph). The 4.0 V8 automatic accelerates effortlessly to 60 mph in a mere 6.6 seconds with a top speed, where conditions allow, of 150 mph.
Refined, powerful engines are allied to a chassis which combines outstanding ride comfort with poised agile handling. The new double wishbone suspensions provide traditional jaguar refinement but with a distinctly dynamic character. The ideal 50/50 front/rear weight distribution, combined with the new electronic traction control, anti-lock braking and variable ratio, speed proportional steering systems provide optimal vehicle control. Electronic brake distribution provides enhanced stability in adverse conditions, while the optional Dynamic Stability Control system links with the anti-lock braking, traction and steering systems to prevent oversteer. The latest generation of Jaguar's Computer Active Technology Suspension, employing electronic adaptive dampers, is also available as an option.
Multiplexed electrical architecture supports the comprehensive feature specification and advanced technologies including automatic, dual-zone climate control and the optional rain sensing wiper and reverse park control systems. An integrated satellite navigation system is also available as an option and links with the UK's Trafficmaster system to provide real time data on traffic delays.
For the first time on a production car, S-TYPE features voice activated control of all primary audio, phone and climate control functions, providing safe, hands-free operation. Voice activation is available as an option in the UK and USA.
S-TYPE features a strong crash structure, innovative collapsible steering column and protected under-floor plastic fuel tank. The driver and front passenger are protected by dual front and side airbags which protect both chest and head. A state-of-the-art crash sensing system controls the deployment of all airbags and pyrotechnic seat belt pre-tensioners. Comprehensive, state-of-the-art security systems, fully integrated into the vehicle electronics, exceed the stringent British Insurance Industry Criteria for customer peace-of-mind and include perimeter alarm, immobiliser, deadlocking, intrusion sensing and automatic locking on drive-away. 'Smart' locking helps prevent keys being locked in the car.
Throughout S-TYPE's design and development, Jaguar employed a cross-functional team of highly qualified engineers with international design and manufacturing experience which took maximum advantage of the global knowledge and expertise within the selected component suppliers. The flair and ingenuity of Jaguar engineers, so effectively executed on the XK8 sports car and recently launched V8 XJ Series saloon were applied to S-TYPE, particularly in the areas of powertrain, ride and handling, refinement, styling and interior ambience. Applying the lessons learnt from one programme to the next ensures a process of continuous improvement. In addition, Jaguar engineers employed innovative design methodologies and simulation techniques to ensure the achievement of all functional and quality targets.
Designed, developed and built by Jaguar in the UK, S-TYPE enters a new segment of the market with world class standards of quality and technology, benefiting from access to the knowledge, resources and best practices of Ford Motor Company.
S-TYPE represents the beginning of a new era of joint product development with Ford, sharing its platform architecture with the new Lincoln LS. The concept of joint development ensured that Jaguar's core marque values in terms of style, performance, refinement, ride, handling, luxury, comfort and craftsmanship were engineered into the concept design at the very beginning of the engineering programme, encapsulating the essential Jaguar character and identity. This form of design collaboration also enabled jaguar to realise all new, class-leading systems and components "under the skin', the source of which is unimportant to potential customers.
Jaguar top powertrain engineers also worked closely with their Ford counterparts throughout the new AJ-V6 engine programme. The concept design of the AJ-V6, which uses a cylinder block derived from that of the Ford V6 modular engine, was undertaken by the same team of engineers who created jaguar's highly successful AJ-V8. Detailed design of the AJ-V6 was completed by a colocated team of Jaguar and Ford engineers, resulting in a valuable interchange of expertise and technology. The development and testing of the AJ-V6 took place at Jaguar's Engineering Centre at Whitley in Coventry.
S-TYPE is produced at Jaguar's Castle Bromwich factory in Birmingham, the site of the company's existing body assembly and modern paint shop facility for the current XJ Series saloons and XK sports car ranges. The development of Castle Bromwich to accommodate S-TYPE production represents one of the largest inner city investments in the UK of the last 50 years. The total investment for the S-TYPE programme amounted to £400 million, of which around £200 million was associated with the development of the Castle Bromwich site.
Commenting on the significance to Jaguar of the launch of S-TYPE, Nick Scheele, Jaguar's Chairman and Chief executive, said :
"The launch of S-TYPE signals the dawn of a new era in the history of Jaguar. The new S-TYPE represents the first stage of a dramatic product-led expansion of the company over the next four years, which will attract a new generation of customers to the Jaguar marque. This will fuel a four-fold rise in Jaguar sales from fifty thousand cars this year to over two hundred thousand cars by 2002, firmly establishing Jaguar as a leading player in the world's premium car market."