[02 JUN 00] JAGUAR NEWS
Jaguar Unveils New Design Studio

Jaguar has opened a new studio dedicated to finding the cars of the future at its research base in Whitley in Coventry.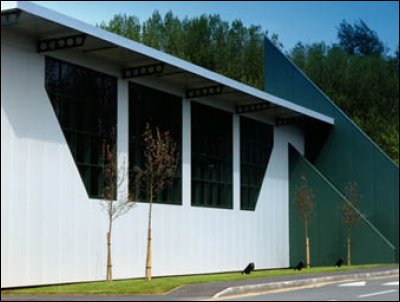 JAGUAR'S NEW GEOFF LAWSON STUDIO IN WHITLEY
It has been named the Geoff Lawson Studio in memory of the former Director of Styling, who died suddenly last year.
The studio, which is to explore advanced design concepts that could lead to the Jaguars of the future, is alongside the main design studio at Whitley.
The hi-tech, high-security compound, is being run by Julian Thomson, aged 38, who joined Jaguar in January from the Volkswagen Group Design Centre in Barcelona, where he was Chief Designer. Previously he led the design team that created the Lotus Elise.
Up to 30 people can work in the state-of-the-art facilities. Initially it will house 15 staff, around half of whom have been recruited from within Jaguar.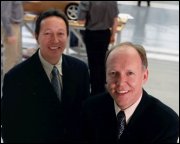 Ian Callum (pictured, right), Director of Design, who is in charge of the overall design strategy of the company, said:
"The aim of the Advanced Design department is to investigate the far-reaching future of Jaguar design in terms of form, language, proportions and structures.

"The brief of Julian Thomson and his team is to look at new design concepts and market niches which, though far removed from the Jaguars of today or even tomorrow, could be the realities of Jaguar's long-term future."
Mr Thomson (pictured left) said he can see the role of the studio very clearly.
He said:
"Our job is to say 'What if?'

"We can be extreme, but we must remember that Jaguar is about purity of function and line. We're not here to provide flights of fancy."
Many of the designs produced in the studio will remain secret, but some examples will take centre-stage at international motor shows.
And Mr Thomson said working on shows can have a beneficial effect.
He said:
"The inflexible deadline that a show imposes certainly puts pressure on the people creating the car. But it also encourages spontaneity and that's good for the creative process and the finished product."
He added that Jaguar will not follow market trends in developing ideas:
"The S-type sports saloon and the F-Type Concept roadster demonstrate that. They are both fresh designs but with an absolutely clear Jaguar identity that makes them stand out as something special and immediately identifiable. Neither could be anything but a Jaguar."
Jaguar Managing Director Jonathan Browning added:
"Much of our past success stems from the Jaguar hallmarks of prestigious style and richly-crafted interiors, which remain vital to out future success.

"The role of the Geoff Lawson Studio is to develop fresh design concepts which embody greater modernity and innovative technologies and therefore will play a key role in Jaguar's future.

"But our customers may rest assured that we will not allow the essential Jaguar design values to be diluted. For us and them, a Jaguar will still be a Jaguar."