[22 JUN 00] JAGUAR NEWS
Jaguars Hanging About To Celebrate Speed

Don't adjust you monitor, these Jaguars are supposed to be hanging in the air like this.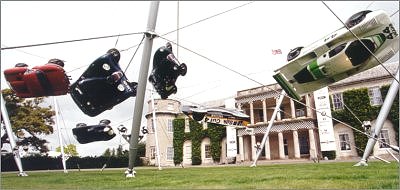 JAGUARS IN SUSPENSE AT GOODWOOD
The marque has been chosen as the main feature of this year's Goodwood Festival of Speed.
Jaguars throughout the ages will be dangling before the eyes of speed freaks at the major car festival this weekend.
The retrospective of the sports car had got key Jaguars hanging at unusual angles on the lawn in front of Goodwood House in Sussex.
Six Jaguar racing cars have been suspended from cables – an XK120 roadster, a C-type, D-type, E-type coupe, XJR5 and XJR8 Le Mans.
Flanking the display will be the much-vaunted F-type concept car – the only one in existence - and an example of the Jaguar R1 Formula One car.
Jaguar managing director Jonathan Browning, said:
"I am delighted that Jaguar is the Featured Marque in this, the eighth year of the Goodwood Festival of Speed.

"The event is unique in the motorsport calendar bringing together the word's finest racing cars and motorcycles in an informal garden party atmosphere.

"I can think of no better place for Jaguar to showcase its illustrious motorsport heritage and our latest venture into Formula One."