[06 SEP 00] JAGUAR NEWS
Jaguar Chews Up Its Prices As War Deepens

Jaguar is to cut the cost of its complete range of cars and add extra features for the 2001 range.

The reduction in price and improvement in the package is equivalent to an average 8.5 per cent saving, the company claims.

The Coventry-based firm has seen record sales this year, but the luxury market in which it competes has been heating up.

Would-be Jaguar owners can now secure their status symbol for £26,700 – the new cost of the basic S-type 3.0. The previous on the road price was £28,300 and £830 of extra features have been added.

The XJ series starts at £35,950, while there is a "value improvement" of up to £4,755 on the XK sports car range.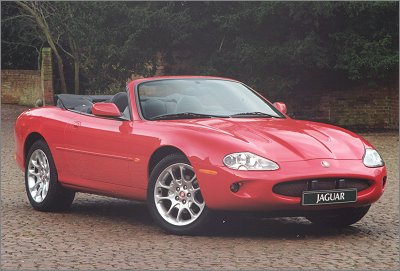 TOP OF THE RANGE - XKR CONVERTIBLE FOR JUST £63,350, A £3,755 CUT
One example, the XK8 Coupe, now has an on-the-road price of £48700 – just £50 above its launch price in 1996, despite the changes made to the car since then.
The cuts have been introduced to restore customer confidence.
High-profile campaigns criticising the cost of new cars, including a broadside from the government, has led many people to hold off buying a new vehicle in case prices fall.
Andrew Lester, Director of UK Operations,said the cuts were to reassure its customers that it is responsive to their needs.
He said:
"Over the past few years we have continuously improved the feature specification of all our models, year on year.

"Today the combination of real world price cuts and further standard feature enhancements for the 2001 model year reaffirms Jaguar's longstanding reputation for unrivalled value for money."