[30 OCT 00] JAGUAR NEWS
Virtual Chance To View A Dream Jaguar

People who want to see the Jaguar of their dreams can now make their own virtual car with an interactive feature on the firmís website.

Prospective owners can build, see and get an accurate price for the model of their choice using the feature at www.jaguar.com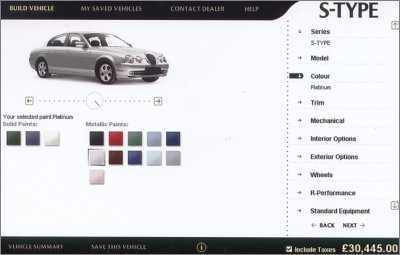 The centrepiece of the new design is a virtual spinning car, which allows users to view and update more than 1,250 exterior combinations.
For the first time in the car industry the facility has been developed for use in nine different markets, and will is available in nine languages.
As customers click their way through their choices, the image and the price automatically updates, up to ten personalised selections can be stored in a virtual garage and forwarded to the local Jaguar dealer to start the real process of completing the transaction.
The virtual car, which has been specially written by software firm Global Beach, uses streamed downloading to allow the user to spin and view changes immediately.
Data-driven colour tinting has been used instead of image imports to make sure the full palette of Jaguar finishes can be seen.
Phil Cazaly, Jaguarís Director of Marketing, said:
ďAs a company going through rapid growth, Jaguar is totally committed to the use of new technology.

ďThe car configurator on the Jaguar website is our first step towards e-commerce and will have real value to Jaguar customers.