[01 NOV 00] JAGUAR NEWS
Jaguar Reveals Its Pride And Joy

The latest addition to the Jaguar family has been unveiled by its proud parents today – and it is expected to double the company's worldwide sales.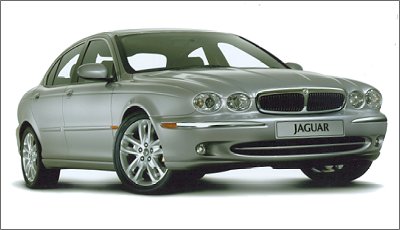 THE JAGUAR X-TYPE
The smallest Jaguar yet, it has been christened the X-Type, and was designed at the Whitely Engineering Centre in Coventry.
The four-door saloon will fly the flag for the company against prestigious rivals such as the Mercedes Benz C class, the Audi A4 and the BMW 3 series.
It will be made at Halewood in Merseyside and will be on sale in the UK and the rest of Europe in the middle of next year.
Jaguar managing director Jonathan Browning said the X-type, which will be cheaper than the other models in the Jaguar range, should double the firm's sales.
Since the launch of the S-type, Jaguar has seen its popularity grow, and hopes to sell 85,000 cars this year.
Mr Browning said:
"As the smallest and most affordable model in the range, the X-type challenges existing perceptions about Jaguar.

"Appealing to a new generation of customers, the X-type exemplifies Jaguar's new performance spirit, offering a fresh, contemporary expression of Jaguar values in a compact, stylish, sports saloon."
It is the first time that a Jaguar will offer all-wheel drive as standard. It will have a V6 2.5 or 3.0 litre engine.
Mr Browning said the new car, dubbed the Baby Jag, will attract a new generation of buyers to the marque:
"Customers for the X-type typically will be younger than traditional Jaguar buyers with notably different needs. We also expect X-type to attract far more female buyers.

"They may be young professionals, perhaps starting a family, whose cars have to fulfil a multitude of different roles, lengthy motorway trips on business, energetic leisure activities with friends and even the weekly supermarket run.

"But these are the people who require a car to have discernible style and individuality too.

"With its unique blend of style and practicality, the X-type fulfils all these needs."
More details of the car, including its price, will be revealed by the company next year. It is expected to cost around £22,500