[05 DEC 00] JAGUAR NEWS
Clean, Mean S-type Sport Unveiled By Jaguar

Jaguar has today lifted the lid on a sporty version of the hugely popular S-type to bring the car to a younger audience.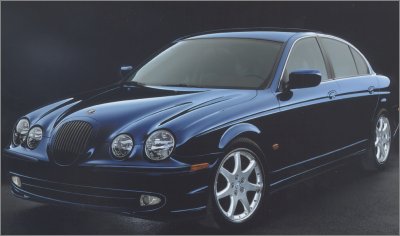 THE S-TYPE SPORT
The de-chromed model was being shown off at the Bologna Motor Show in Italy.
Most eye-catching are the 18-inch alloy wheels and subtle restyling from the main S-type model.
The cars are being painted in one of five distinctive metallic colours, and grey-stained maple has been used as the veneer on the inside.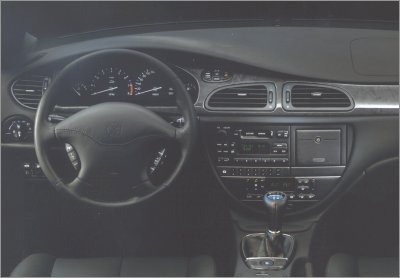 THE "CLEAN AND MEAN" INTERIOR
There is a new power steering system, and engine management has been improved to reduce vibration and increase performance.
The S-type Sport will be available with 240 bhp three-litre 24 valve, four cam V6 or 281 bhp 32 valve, four cam, four-litre V8.
Both the V6 and V8 engines now have a reduced warm-up time and improved smoothness when idling and a greater throttle response.
The redesign has been carried out by a young styling team at Jaguar, and Director of Design Ian Callum said he was pleased with the results.
He said:
"They have created a car with attitude, and that's the kind of youthful approach we wanted to expand the appeal of the S-type.

"Just as we developed the looks of the XK8 to create the purposeful XKR, we were determined to give the S-type the same impact.

"I wanted it clean and mean and that's what the team delivered."
The Sport 3.0 V6 costs £30,600 - £3,900 more than the normal S-type, but Jaguar says it comes with extras worth £4,580. The Sport 4.0 V8 costs £38,400 – just over £3,000 more than its traditional partner, but again with extras.
Jaguar Managing Director Jonathan Browning said he believed the addition to the range would help the company's sales even further.
He said:
"Since its launch last year, the distinctively stylish S-type has fuelled a jaguar sales explosion across the globe.

"The S-type Sport will build on this success by satisfying the needs of predominantly younger buyers who demand a more sporty, purposeful, dynamic character, both inside and out."