[05 FEB 01] JAGUAR NEWS
Moss To Drive C-Type For Anniversary Race

Sir Stirling Moss will race in a Jaguar C-Type at Le Mans this year - half a century after he first competed at the circuit and Jaguar recorded its first victory in the classic race.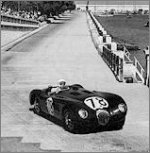 Sir Stirling, pictured right racing in a Jaguar in 1952, will be one of a specially invited group of drivers taking part in a unique race staged to celebrate the heritage of the 24-hour event.
The Le Mans Legend race will take place before the running of this year's twenty four hour endurance race on Saturday 16 June.
Sir Stirling will be driving a C-Type lent by owner Adrian Hamilton – whose father Duncan, together with Tony Rolt, drove the car to victory at Le Mans in the 1953 race.

Before he flies to Le Mans for the race, Sir Stirling will be at Jaguar's headquarters at Browns Lane in Coventry to flag off a cavalcade of C-Types driving to Le Mans to celebrate the fiftieth anniversary of Jaguar's first victory in 1951.
Jaguar's managing director Jonathan Browning said:
"Le Mans holds a special place in Jaguar's heritage. We have won this great race seven times – five times in the fifties and then again in 1988 and 1990.

"As we start our second season in Formula One, the fiftieth anniversary of our first win at Le Mans is a very clear reminder of our long and successful heritage in motor sport."
The Le Mans Legend race is being staged by Motoring Cavalcades Ltd in collaboration with the Automobile Club de l'Ouest, which organises the Le Mans 24 Hour endurance race.
Ray Wiltshire, the race co-ordinator said:
"It will be a great spectacle. Over half the cars in the Le Mans Legend race actually took part in the twenty four hour classic between 1949 and 1964.

"Re-uniting Sir Stirling with the only Le Mans winning C-Type still in existence will be a massive attraction for the many thousands of British enthusiasts who go to Le Mans every year."
The Jaguar C-Type is widely regarded as being one of the finest examples of the classic sports racing car which gave Jaguar countless victories, including Le Mans wins in 1951 and 1953.
Of the original 53 C-Types built, 49 still survive and many of these cars will cavalcade from Jaguar's headquarters in Coventry to Le Mans to celebrate the C-Type's first victory.
A young Stirling Moss was in the three-car Jaguar team for that first race at Le Mans in 1951. Although forced to retire with oil pressure problems, his widely acclaimed drive – which included a new lap record – helped establish him as one of the fastest and most talented drivers of his generation.
After his race ended on the 93rd lap he watched from the pits as Peter Walker and Peter Whitehead drove their C-Type to victory to give Jaguar its first ever win in the world's toughest endurance race.