[07 FEB 01] JAGUAR NEWS
New Drivers Wooed By Jaguar With X-TYPE

The full specification of the next Jaguar to hit the roads has been released, along with some stunning shots of the Coventry-designed car.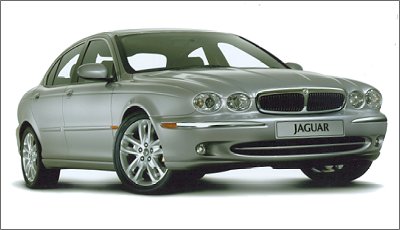 JAGUAR'S X-TYPE WILL COST FROM £22,000
The X-Type will cost between £22,000 and £26,250 on the road and will take the Coventry firm face-to-face with the BMW 3-Series, Audi A4 and the Mercedes Benz C-Class.
It is the smallest Jaguar to be built and is expected to double Jaguar's sales within two years, targeting a younger audience and women drivers.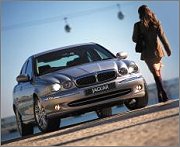 The X-TYPE, which is 90 per cent recyclable, is fitted with Jaguar's Traction 4 all-wheel drive system as standard, and was designed and built in record time at the Whitley plant in Coventry.
Options include a touch-screen multimedia system, while the car has the biggest amount of boot space ever in a Jaguar and a range of security and safety equipment.
Managing director Jonathan Browning said:
"The X-TYPE connects Jaguar with a different type of customer. It challenges existing perceptions of Jaguar, broadening the appeal and the accessibility of the marque, and it drives forward our ambitious growth strategy which began with the launch of the S-TYPE in 1998.

"Today, Jaguar is selling more cars in more markets than ever before, and X-TYPE is targeted with helping us double sales once again."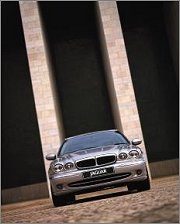 At launch, five X-TYPE models are available: the entry level 2.5 V6, the range-topping 2.5 and 3.0 V6 'Special Equipment' ('S.E.'), and the 2.5 and 3.0 V6 Sport, which have better suspension.
Each model has a five-speed manual transmission as standard, with a fully electronic, five-speed automatic transmission optional across the range.
The automatic option can be switched between 'normal' and 'sport' driving modes. Cruise control is optional on all models.
Chief engineer Mike Cross said the driving experience was like fine wine – a mixture of art and science.
He said:
"The X-TYPE's nimble driving dynamics reward the enthusiast, as well as reassuring the everyday driver.

"The car's outstanding combination of agility and refinement stems from a blend of advanced engineering and intuitive know-how, with each individual component having an influence on the ride and handling.

"So to achieve the perfect balance we carried out a great deal of testing and fine-tuning. You could say it's a little bit like making a fine wine – part science, part art."
The engines deliver 194 bhp (145 kW) in the 2.5 litre model and 231 bhp (172 kW) in the 3.0 litre.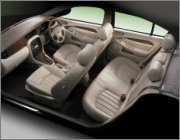 The X-TYPE also has an industry first for cars in the class, with a 7-inch widescreen LCD touch-screen display. This allows finger-tip control of climate, audio and navigation systems, and television tuner and telephone.
Another innovation is the optional JaguarNet, one of the first systems of its kind in the world. The system integrates cellular telephone and satellite vehicle location technology, and gives emergency roadside assistance and access to local information.
Voice activation, a world-first for Jaguar when launched on S-TYPE in 1999, can also be specified.
It gives voice control of the main functions of the audio, telephone and climate control systems, and - for the first time - the satellite navigation system and TV tuner, where fitted.
Standard features across the range include air conditioning, 'anti-trap' electric windows, a 120 Watt audio system and electric height adjust on the driver's seat.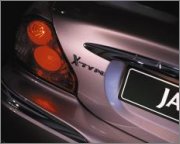 Safety features include driver and front passenger occupancy sensing systems, twin dual-stage frontal airbags, side airbags for driver and front passenger, side curtain airbags for front and rear occupants, load-limiting and pre-tensioning front seat belts, three-point seat belts throughout and a collapsible brake pedal mechanism.
The car was designed using feedback from a worldwide consumer research programme - Jaguar's most intensive ever.
£300m has been invested in transforming the old Ford Escort plant at Haleswood. Around 3,000 jobs have been safeguarded and an additional 500 created locally, with the establishment of a 65-acre supplier park alongside the plant, to feed components and sub-assemblies to the production line on a just-in-time basis.
Marketing director Phil Cazaly said:
"We expect the X-TYPE to attract a significant number of new customers, particularly younger people who previously may have regarded a Jaguar as beyond their reach or as being unsuitable for their active lifestyles.

"Delivering practicality as well as performance and style, the X-TYPE presents a completely new proposition.

"It will help us to make rapid advances in areas where we have traditionally been under-represented, such as with women drivers and amongst 'user-chooser' company car drivers."
Prospective customers car see all the details about the car, including photos and video footage, at
www.x-type.com