[17 FEB 99] JAGUAR PRESS RELEASE
Jaguar Executive To Head Ford's Powertrain

Jaguar today announces that David Szczupak, Chief Programme Engineer for the S-Type programme has been appointed to the most senior powertrain engineering job in Ford. As Chief Powertrain Engineer, Ford Automotive Operations Mr Szczupak will be responsible for all Ford's engine and transmission engineering programmes.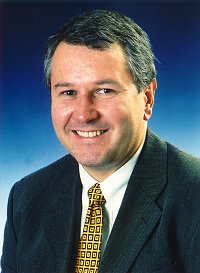 He will report to Roman Krygier, Vice President, Powertrain Operations and will also have matrixed reporting responsibilities to Richard Parry-Jones, Group Vice President, Product Development. He will assume his new responsibilities on 1 April.
Nick Scheele, Jaguar's Chairman and Chief Executive said:
"David has made an outstanding contribution to Jaguar. He headed the team which designed and developed Jaguar's AJ V8 engine, which is widely acknowledged to be one of the finest engines of its generation, and has subsequently been responsible for the S-Type programme. These two major programmes have been significant factors in helping transform Jaguar during the nineteen nineties. I am delighted with his promotion."
David Szczupak joined Jaguar in 1985 as Manager, Advanced Powertrain Technology responsible for new powertrain developments. Between 1988 and 1990 he was manager of Jaguar's six cylinder engine programme before assuming responsibility for the AJ V8 engine programme. He became Chief Engineer, Jaguar engine programmes in 1994 and, following the introduction of the Jaguar V8 engine in 1996, was appointed Chief Programme Engineer for the S-Type Programme.
Born in Sheffield, Yorkshire, David Szczupak gained a masters degree in automotive engineering at the Cranfield Institute of Technology. He joined the Holset Engineering Company in 1976 spending nine years working on advanced powertrain engineering projects and race car engine development.
Roman Krygier, Ford's Vice President of Powertrain Operations said:
"David is a talented engineer who will make a major contribution to Ford's worldwide powertrain development programme."
Ford's Powertrain Operations Group reports to Jim Padilla, Group Vice President, Manufacturing, who spent two years at Jaguar as Executive Director, Engineering and Manufacturing.
Married with one son and one daughter, David Szczupak currently lives in Kenilworth, Warwickshire. He lists karting and cycling as his hobbies.