[19 MAR 99] JAGUAR PRESS RELEASE
Dr Reitzle Becomes Chairman Of Jaguar

Ford Motor Company President and CEO Jacques Nasser today named Dr. Wolfgang Reitzle Group Vice President of a newly created Premier Automotive Group within Ford. Dr Reitzle will also become Chairman of Jaguar Cars Ltd, and Chairman of Volvo Cars, pending approvals. The Premier Automotive Group will also include lead responsibility for Aston Martin and Lincoln.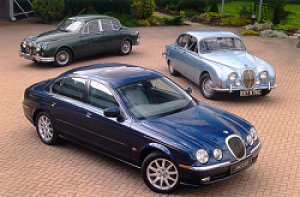 Nick Scheele, currently Chairman and CEO of Jaguar Cars Ltd, has been appointed Senior Vice President - Ford of Europe with responsibility for Marketing, Sales and Service.
"As we continue our commitment to becoming the world's leading consumer company for automotive products and services, I am pleased to announce the formation of the Premier Automotive Group," said Jacques Nasser. "Aston Martin, Jaguar, Lincoln and Volvo are powerful brands and by grouping them in this way it allows us to bring a laser-like focus to these products and also allows us to preserve the diversity of these vehicles in terms of customer appeal and cultural heritage."
Both Reitzle and Scheele have been elected officers of Ford Motor Company. Reitzle, who will be based primarily in England, will report directly to Nasser. Scheele will report to Jim Donaldson, President of Ford of Europe and will be based in Germany.
"Dr Reitzle is a very talented and effective automotive executive and business leader," Nasser said. "The objective of the Premier Automotive Group will be to develop strategies to leverage and grow our premium and global brands. Reitzle's world-wide experience in the premium segment and his appreciation of classic marques make him a highly appropriate addition to our senior management team."
Nick Scheele has been Chairman and CEO of Jaguar Cars Ltd, since April 1992 and has led a transformation in the luxury car marque's overall performance.
"In the past seven years, Nick has done an absolutely great job in restoring the lustre to the Jaguar crown," Nasser said. "Under his leadership, Jaguar has regained its rightful place as one of the top marques world-wide in terms of brand image, product quality and customer satisfaction. Jaguar sales are at an all-time peak and with the launch of the new S-TYPE, will grow to the next level. Through his keen focus on consumers, we expect Nick to play a very important role in the development of our European operations."
In addition, effective immediately, Mike Beasley, currently Director, Manufacturing, Jaguar Cars Ltd is appointed to the new position of Executive Director, Jaguar Cars Ltd. In his new role, Beasley will ensure that Jaguar continues to focus on the day-to-day tasks of delivering the growth strategy and launching new products such as the new S-TYPE sports saloon to world class standards of quality and customer satisfaction. He will co-ordinate the activities of the Jaguar executive team and report directly to Dr Reitzle.
More Information: Communications and Public Affairs 01203 203321