[22 JUN 99] JAGUAR NEWS
Jaguar Appoints New Managing Director

Dr. Wolfgang Reitzle, Chairman of Jaguar and Group Vice President of Ford's Premier Automotive Group, today named Jonathan Browning as Managing Director of Jaguar. Currently Executive Director of Marketing for Ford of Europe, Mr. Browning will take up his new appointment on 1 July. He will report to Dr. Reitzie.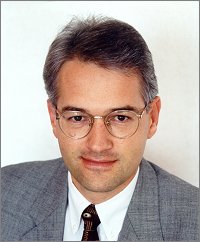 At the same time Dr. Reitzle confirmed the appointment of Mike Beasley as Executive Director responsible for Manufacturing and Engineering.
Dr. Reitzie said:
"These new appointments further strengthen the Jaguar management team and ensure that we have an organisation which can successfully launch our next new car - the X400 saloon - and meet the company's ambitious longer term growth plans for the next millennium.

"Jonathan Browning is joining Jaguar at the start of a new and exciting era for the company. His general management experience and his extensive background in brand development make him the ideal executive to lead the company and to deliver the growth strategy which has already been clearly defined by Jaguar's management team.

"Jaguar has today reported the highest monthly sales in the history of the company. We must continue to build on this success and deliver new products which will meet the aspirations of an increasing number of premium car customers around the world."
Dr. Reitzle said:
"Mike Beasley has done an outstanding job in launching the new S-Type saloon to world-wide acclaim. In his capacity as Executive Director he will focus on sustaining this progress and ensuring that the company's engineering and manufacturing functions deliver similar success with the X400 saloon due to be launched in less than two years' time."
Jonathan Browning said:
"I feel privileged to be joining Jaguar at this time. The company has a strong management team which has already delivered a remarkable transformation in the last ten years. There is no question in my mind that this is one of the best jobs in the automotive industry and I look forward to helping Jaguar achieve the substantial growth opportunities which clearly exist for the marque."
Jonathan Browning was born in Taunton, in the United Kingdom and gained a degree in Industrial Economics from Nottingham University and subsequently an MBA from Duke University in the United States. He joined General Motors in 1981 where he held successively senior appointments in sales, marketing, general management and brand management in the United Kingdom and overseas.
He joined Ford in July 1997 as Executive Director, Marketing in Ford's European Marketing, Sales and Service organisation.
Jonathan Browning is married, with two children. He lists skiing, tennis and cycling as his hobbies.
More Information: Communications and Public Affairs (01203) 203321